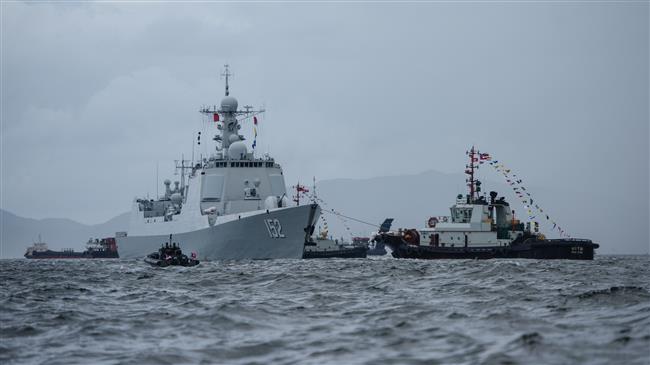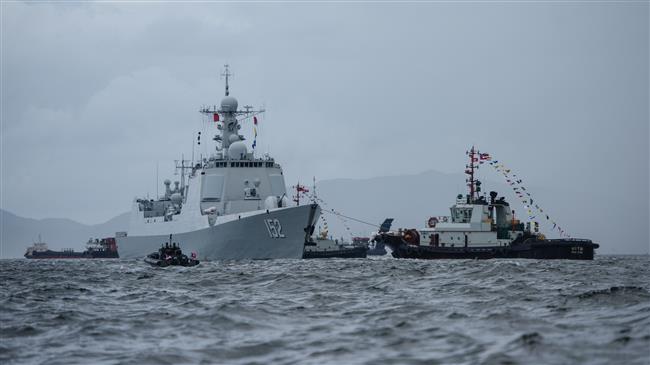 A Chinese news portal says 11 Chinese warships have entered the East Indian Ocean this month, in what seems to have been a show of strength amid a rivalry in the region with India and a crisis in the Maldives.
A fleet of Chinese destroyers and at least one frigate, a massive amphibious transport dock, and three support tankers sailed into the Indian Ocean in February, sina.com.cn reported on Sunday.
"If you look at warships and other equipment, the gap between the Indian and Chinese navy is not large," it said.
The news portal did not say when exactly the fleet had been deployed or for how long, but Indian defense sources said on Tuesday that a Chinese flotilla of a destroyer, frigate, and tankers did enter the region around February 10 after conducting some drills in the South China Sea.
The flotilla, which according to the sources was well over 3,500 kilometers away from the Maldives, went back through the Lombok Strait after several days.
"Indian satellites, warships, and long-range maritime surveillance aircraft like P-8I kept close tabs on the Chinese flotilla, which was in international waters towards Australia," The Times of India quoted a defense source as speaking on condition of anonymity.
The Chinese Defense Ministry did not respond to requests by Reuters for comment. But last week, the People's Liberation Army posted photos and a story on rescue training exercises taking place in the East Indian Ocean on its official Twitter-like Weibo account.
Regional countries, including Australia and India, associate China's recent naval deployment with an ongoing constitutional crisis in the Maldives, with which New Delhi has had longstanding political and security ties.
The Maldives plunged into crisis when President Abdulla Yameen declared a state of emergency and ordered the arrest of judges who had ordered the release of his political opponents.
Maldivian opposition leaders have urged India to intervene in the crisis. Despite New Delhi's calls for ending the state of emergency, the Maldives extended it by another 30 days on Tuesday.
China, however, said on Tuesday that the Maldives has "the wisdom and capabilities to cope with the current situation independently."
Beijing signed a free trade agreement (FTA) with the Maldives last year. It has also been striking deals with countries in Asia and Africa in line with its Belt and Road initiative to improve imports of key commodities, upgrade infrastructure, and trade routes in the region.
The multi-billion-dollar Belt and Road initiative aims to connect Europe, Asia, the Middle East, and Africa with a vast logistics and transport network, using roads, ports, railway tracks, pipelines, airports, transnational electric grids, and even fiber optic lines.
The Untied States, Japan, Australia, and India are planning to establish an alternative to China's Belt and Road Initiative in an effort to counter Beijing's growing influence, The Australian Financial Review reported on Sunday.