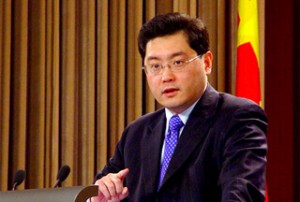 Chinese Foreign Ministry spokesman Qin Gang says Beijing insists that diplomacy is the only way to end the standoff over Iran's nuclear program.
"We have said all along that the Iranian nuclear issue has to be peacefully resolved by diplomatic means through dialogue and negotiations," AFP quoted Qin as saying on Tuesday.
"At present, there is still space for diplomatic efforts, dialogue, and consultation," he added.
The comments came ahead of a visit by British Foreign Secretary David Miliband, due in China on Sunday for a four-day trip, during which Iran's nuclear program is expected to be one of the main topics to be discussed.
China has repeatedly called for a diplomatic solution to the dispute over Iran's nuclear program.