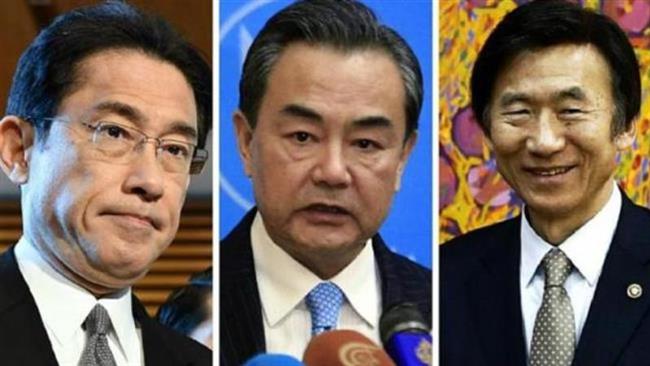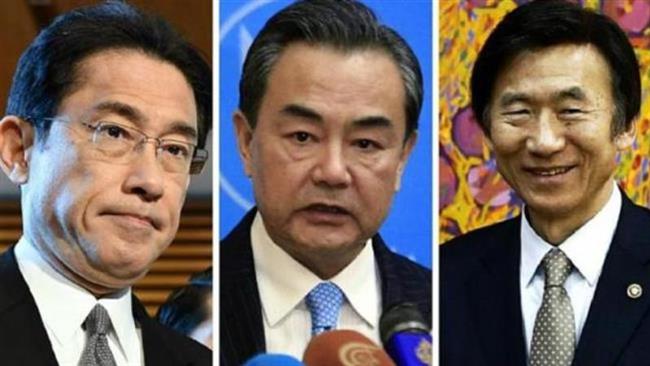 The foreign ministers of China, Japan and South Korea are set to hold trilateral talks in an attempt to resolve long-running historical and territorial disputes.
On Tuesday, a Japanese Foreign Ministry official said that Japanese Foreign Minister Fumio Kishida, and his Chinese and South Korean counterparts, Wang Yi and Yun Byung-se respectively, will meet in the South Korea's capital, Seoul, on Saturday.
"Cooperation among the three countries is important for Japan and we naturally hope this foreign ministers' meeting will lead to a summit in the future," the unnamed official said.
The official further said that no date had been set yet for the summit. A last such summit was last held in May 2012.
The trilateral foreign ministerial meeting will be the first since April 2012.
While China and South Korea enjoy strong relations, both have strained ties with Japan, mainly because of historical and territorial disputes.
The territorial dispute along with other issues that stem from Japan's 1910-45 colonial rule over the Korean Peninsula has strained the ties between Seoul and Tokyo.
Tensions further increased in 2012 after a surprise visit by then South Korean President Lee Myung-bak to a group of disputed islands.
The islands, which are located in the Sea of Japan (known as East Sea in South Korea), are called Takeshima in Japan and Dokdo in South Korea. They are controlled by South Korea and are said to have large deposits of natural gas and oil.
Japan and China have also been at odds over the sovereignty of a separate chain of islands in the East China Sea, known as Senkaku islands in Japan and as Diaoyus in China.
Tensions grew after Tokyo nationalized part of the resource-rich islands in 2012.
China maintains that the islands are inherent parts of its territory and it has indisputable sovereignty over them, while the Japanese government, on the other hand, regards the islands as a part of its Ishigaki, in Okinawa Prefecture.
The islands have been under Japanese administrative control since the reversion of Okinawa to Japan from US administrative rule in 1972.