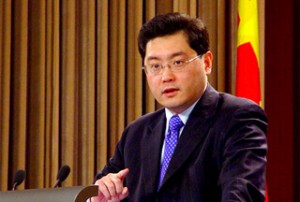 China has joined international condemnation of an Israeli plan to build 1,600 homes on occupied Palestinian land in an East Jerusalem (al-Quds) settlement calling for a halt to the expansion scheme.
"We request the Israeli side to stop the establishment of new Jewish settlements and make concerted efforts and concrete actions to contribute to the resumption of peace talks," Chinese Foreign Ministry Spokesman Qin Gang said on Thursday.
"This action will damage the basis for the negotiations between the two sides and undermine international mediation efforts," Gang added.
Tel Aviv regime's green light to the construction of 1,600 homes in Ramat Shlomo neighborhood in al-Quds has drawn severe criticism internationally.
US optimism for kick-starting the Middle East 'peace' process has suffered a humiliating setback as President Obama's Middle East envoy George Mitchell is trying to revive an indirect dialogue between Palestinians and Israelis after a year of acrimony.
Previous efforts at direct talks have fallen short since Tel Aviv declines to meet the Palestinians' crucial demand — a comprehensive freeze on all settlement activities in the West Bank.