Asia-Pacific
China
Korea
China, North Korea hail 'long-term, invincible' friendship
The leaders of China and North Korea have exchanged congratulatory messages and vowed to expand bilateral ties as their countries celebrate 70 years of diplomatic relations.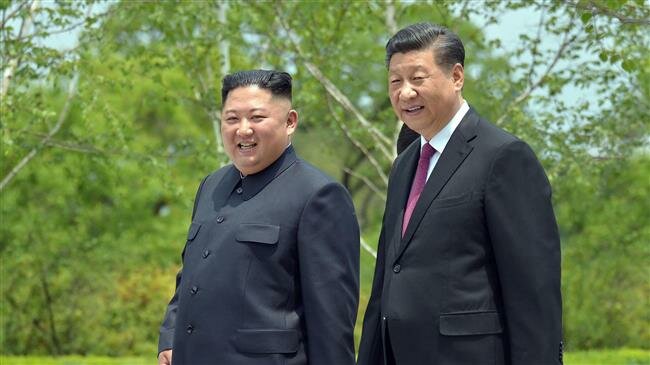 Chinese President Xi Jinping promised to advance "long-term, sound and stable" ties with North Korea and said the relationship between Beijing and Pyongyang had played an "important and positive role in maintaining regional peace and stability," China's state news agency Xinhua reported on Sunday.
Xi also said the traditional friendship between the two countries had over the past 70 years stood the test of time and grown stronger by taking root in the hearts of the two peoples.
North Korean leader Kim Jong-un, for his part, said in his message that the two countries' "invincible friendship will be immortal on the road of accomplishing the cause of socialism," and that Beijing and Pyongyang would "preserve the peace and stability of the Korean Peninsula and the world."
Kim also vowed to develop his country's relations with China regardless of the international situation, saying, "No matter how the international situation changes, it is the firm will of our party and the government to inherit the friendly relations between the two countries and develop them to a new level."
The two neighbors have been tightening their ties in recent months, with their leaders having held five summits since March 2018.
North Korea was among the first countries to recognize the People's Republic of China after it was founded in 1949.
China marked the 70th anniversary of its founding with a massive military parade in the capital, Beijing, on October 1.
China shows off nuke-capable ICBM on founding anniv.The 70th anniversary of the founding of Communist Party-ruled China is celebrated with a massive parade of highly advanced weapons, including a nuclear-capable missile that can reportedly reach the US in 30 minutes.
The pledges of the strengthening of the ties between China and North Korea come as the United States once again failed to advance the negotiations it has opened with Pyongyang on the demilitarization of the Korean Peninsula.
Formal working-level talks on the outskirts of the Swedish capital, Stockholm, ended without success on Saturday, with Pyongyang blaming Washington.
The US's failure to reciprocate unilateral goodwill gestures by the North has resulted in the collapse of the talks before.