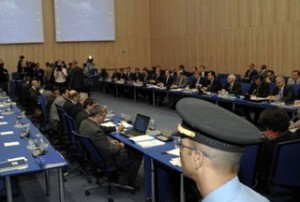 China and Russia have praised the talks between Iran and the three major world powers, which has led to a draft nuclear deal proposed by the UN nuclear watchdog.
The International Atomic Energy Agency (IAEA) Director-General Mohamed ElBaradei said the draft agreement has been sent to Iran, Russia, the United States and France for final ratification.
"We noticed that some progress has been achieved in Iran nuclear-fuel talks and we welcome the gradual implementation of the consensus in Geneva meeting," said Chinese Foreign Ministry spokesman Ma Zhaoxu.
Ma says China will continue its 'constructive role' to remove through dialogue disagreements over Iran's nuclear program.
Representatives from Iran, the United States, Russia, France and the IAEA came together in Vienna to discuss the ways for providing the country with high-enriched uranium for using in a research reactor in Tehran.
Russia also praised the talks, saying 'consultations are still continuing'.
"The talks testify that we can resolve in a civilized and mutually respectful manner the questions that are a matter of interest for the participants," said Russian Foreign Ministry spokesman Andrei Nesterenko.
"Consultations are still continuing. Let's wait for their end and an announcement of concrete results," he added.