China
China, Russia to hold joint naval drill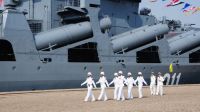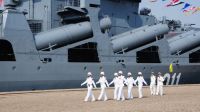 China and Russia say they will hold a joint naval drill in the East China Sea to improve their ability to cope with maritime security threats.
According to AFP, Russian President Vladimir Putin and Chinese President Xi Jinping are set to oversee the start of the week-long exercises, dubbed Joint Sea 2014, on May 20.
At least 16 Chinese and Russian warships, including two submarines, will take part in the drill. The military maneuvers will include simulated attacks, escort of ships, and search and rescue operations.
Putin, who is due to arrive in China on Tuesday on an official visit, said in an interview that Russia-China ties have reached their highest level in history.
During his two-day visit to Shanghai, Putin and his Chinese counterpart will sign several deals, including a landmark gas deal crucial for Moscow as Europe seeks to cut reliance on Russian oil and gas.
The military maneuvers come amid simmering tensions between Russia and the West over the crisis in Ukraine.
China has also been involved in a long-running dispute with Japan over the sovereignty of a group of islands in the East China Sea.