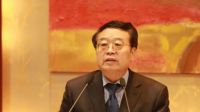 China has strongly criticized Japan's prime minister for urging a review of his country's security policy.
According to AFP, China's vice Foreign Minister Cheng Guoping said on Sunday that Japanese leaders were pursuing a military agenda in the troubled Asia-Pacific region.
"Paying visits to the Yasukuni Shrine [and] … denying Japan's crimes during the Second World War…., I believe this is what all peace-loving countries and people oppose. It also goes against the historical trend of this world," Cheng told reporters in Shanghai.
Top Chinese official also accused the Tokyo government for the recent tensions between the two countries.
This is while, Japanese Prime Minister Shinzo Abe has called for a review of legal limits on the military's ability to fight overseas.
His comments are construed as signaling a potential landmark change in a security policy which has long been constrained by Japan's pacifist, post-World War II constitution.