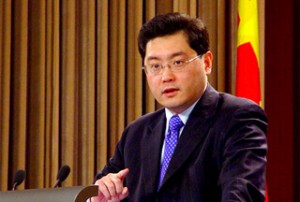 Beijing once again has shrugged off Washington's call for harsher sanctions against Iran over its nuclear activities.
US Secretary of State Hillary Clinton recently said she expects the UN Security Council to impose new sanctions against Iran within the "next 30 to 60 days."
Clinton claimed that the US administration's overtures to Tehran have helped Washington gain greater international support for tougher sanctions against Iran over its nuclear program.
Clinton said, "Iran has left the international community little choice but to impose greater costs for its provocative steps."
However, China's Foreign Ministry spokesman Qin Gang said that his country believes diplomatic efforts have not yet been exhausted.
"We believe there is still diplomatic room for the Iranian nuclear issue," Qin said.
"We hope all parties concerned can put the overall interest in their mind and enhance consultation and dialogue so as to come to a peaceful solution," he added.
Qin said China would "continue to play a constructive role" in resolving the issue.
Aside from China, Russia — another veto-wielding member of the UN Security Council — has voiced opposition to new Iran sanctions proposed by Clinton.
Tehran has repeatedly declared that the Western-backed sanctions will not force it to give up the Iranian nation's legitimate nuclear rights.