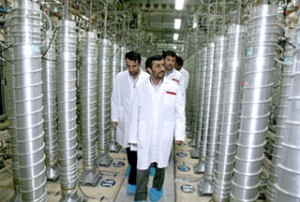 China's new Ambassador to the United Nations in Geneva, He Yafei, urges Iran to accept a nuclear fuel swap proposal to ease demands for new sanctions against Tehran.
"We have been talking to Iran constantly, bilaterally I mean," the senior Chinese diplomat told reporters in Geneva on earlier today.
"We are urging them to agree to the proposal by the IAEA (International Atomic Energy Agency) to have this exchange of nuclear fuel of the Tehran research reactor as a first step," he added.
The senior Chinese diplomat further pointed out that Beijing is opposed to imposing sanctions against Iran, calling them counterproductive.
According to the Chinese envoy, sanctions usually do not work because they target ordinary people.
Beijing wants "every avenue" explored before considering sanctions, he further explained.
Earlier, Chinese Foreign Minister Yang Jiechi said his country does not view sanctions as the "fundamental solution" to the dispute with the Islamic Republic.
An IAEA-backed deal requires Tehran to send most of its low-enriched uranium abroad for further enrichment to about 20 percent and processing into special rods for the Tehran research reactor which is used for the production of medical isotopes.
Iran says it would agree to a deal if the West provides acceptable guarantees that the fuel rods will be shipped to the country in a timely manner, but this demand has been shrugged off by the West.
Iran is currently enriching uranium to just about 20 percent and the country's nuclear chief says the special plates for the fuel will be manufactured in the next few months.
Iranian Foreign Ministry Spokesman Ramin Mehmanparast said on March 7 that Tehran considers a nuclear fuel swap with any supplier as a valid option providing its conditions are met.
Iran's "priority is to obtain fuel" for a Tehran medical research reactor, Mehmanparast said.
"If the [International Atomic Energy] Agency suggests a country in possession of the 20 percent enriched fuel, we are ready to buy [the fuel]. Besides, if there are countries ready for a swap which will fulfill our conditions, we are ready; otherwise, we will produce the fuel [ourselves]," he concluded.