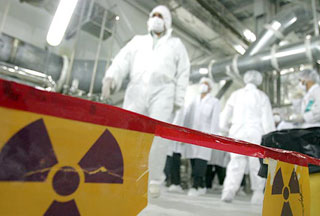 As Iran and the West have yet to come to a closing agreement on Tehran's nuclear case, China says more talks should be held between Iran and the five permanent members of the UN Security Council plus Germany on the matter.
During a meeting with the deputy secretary of Iran's Supreme National Security Council on Sunday, the Chinese deputy foreign minister described Iran's role in nuclear talks with the five permanent members of the UN Security Council – Britain, China, France, Russia and the United States – plus Germany as constructive.
The Chinese official, who is on an official visit to Tehran, called for the continuation of talks between representatives from Iran and the P5+1.
The call for talks comes as nuclear negotiations between Iran and the West have yet to yield a definite result.
Iranian Foreign Minister Manouchehr Mottaki made an official statement on Wednesday about a proposal put forward to the Tehran government by major powers in Geneva on October 19. The proposal suggests that Iran sends the bulk of its low-enriched uranium (LEU) stockpile out of the country in exchange for metal fuel rods for its Tehran medical research reactor.
Iran has said that it would accept the essential elements of the international proposal but has also sought modifications to the formula.
Mottaki explained Iran's stance on the proposal, saying that the country's enriched uranium supply will not be sent out of its borders in exchange for fuel rods fitted for the Tehran medical reactor.
Arguing that a guarantee for the fuel supply is the core concern for Tehran, the Iranian minister said while the Islamic Republic's first option is to domestically enrich uranium to a level of 20 percent, its second option would be to buy the 20-percent-enriched uranium.
He added that the Tehran government would also consider an option to exchange, in a simultaneous swap, the agreed amount of its LEU with its needed fuel on its own territory.
The Supreme National Security Council deputy secretary for foreign policy, Ali Baqeri, welcomed the proposal for more nuclear talks, saying Iran is ready to continue negotiations "based on its own package of nuclear proposals."