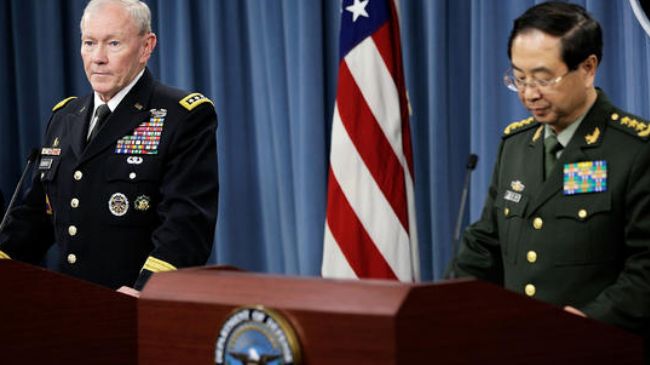 China's top military general has warned that the US effort to increase focus on the Asia-Pacific has stirred up disputes in the East and South China Seas.
General Fang Fenghui, chief of the General Staff of the Chinese People's Liberation Army, said a biased stance would risk harming relations between Washington and Beijing.
Fenghui made the remarks at the Pentagon on Thursday after meeting with US Army General Martin Dempsey, the chairman of the Joint Chiefs of Staff.
He also told the US government to be objective about the regional tensions between China and Vietnam.
Fang vowed that despite angry tensions in Vietnam over an offshore oil rig, his country would maintain Beijing's interests in waters contested by Hanoi.
The Chinese military official also suggested that the Beijing government is ready to defend its territorial integrity.
"I think it's quite clear…who is conducting normal activity and who is disrupting it," Fang said, adding, "Territory which has passed down by our ancestors into the hands of our generation – we cannot afford to lose an inch."
Vietnamese officials say at least 16 Chinese workers were killed after an anti-China protest turned violent in central Ha Tinh Province on Wednesday night.
China and Vietnam are locked in a longstanding territorial dispute in the South China Sea over islands and waters claimed by both countries.
Beijing claims sovereignty over almost the whole of the South China Sea, which is also claimed in part by Brunei, Vietnam, Malaysia and the Philippines. The waters are believed to sit atop vast reserves of oil and gas.
Beijing has frequently warned the United States to be cautious in its words and actions with regard to territorial disputes involving China and its neighbors.