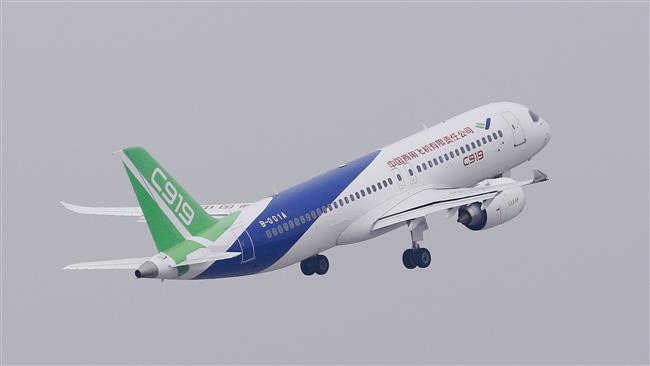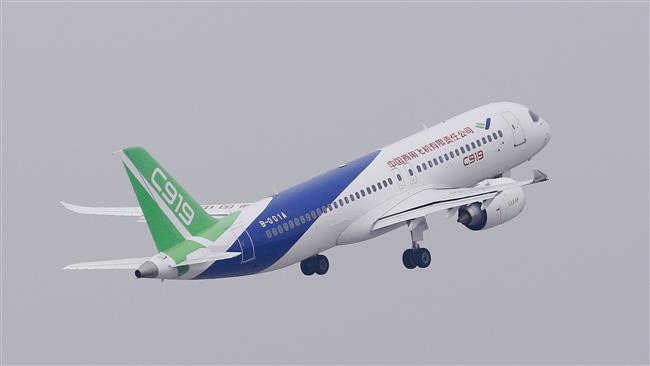 China has sent its first homegrown airplane into the skies in what authorities have described as a landmark achievement that has already propelled the country into a new era of aviation. 
The C919, a twin-engine airliner designed to compete with the Airbus 320 and Boeing 737, took off from Shanghai's Pudong international airport in the early hours of Friday.
The jet – which has more than 150 seats and a range of 4,075 kilometers – is the work of the Commercial Aircraft Corporation of China (Comac), a state-run company that was founded in 2008 with the specific mission of producing the country's first commercially viable passenger jet.
Several of the plane's key components are imported. They include the landing gear which is imported from Germany, the engines that are built by Franco-American companies and the interior which has been designed by Austrian firms.
Previously, Comac had said that 21 customers had placed orders for more than 500 planes by the end of 2016 and that it expected sales to exceed 2,000 in the near future.
Friday's maiden flight will be a key milestone for the C919, which has been plagued by delays. Final ground tests only concluded a few weeks ago, much later than the original schedule of a first flight in 2014, and aircraft delivery in 2016, wrote the media.
China is expected to beat the US as the world's largest aviation market by 2024, according to the International Air Transport Association. And it's going to be big business for a range of sectors, from tourism to airplane makers as the country's airlines buy more planes and add more routes.