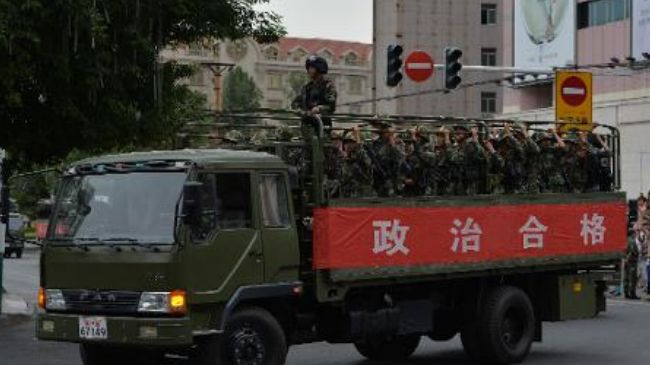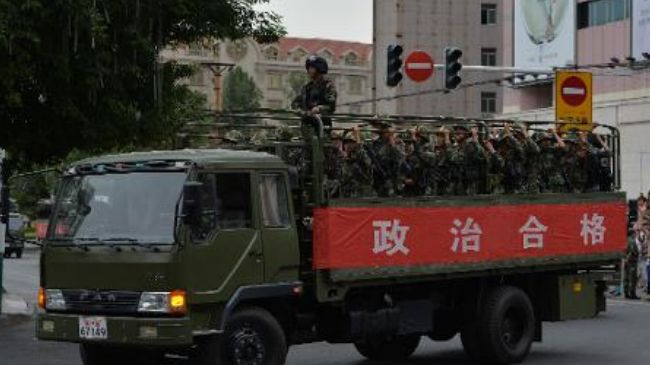 China's state-owned media has demanded 'ethnic healing' in the far western region of Xinjiang, after the killing of over a dozen people during clashes between Chinese security forces and an armed mob.
On Tuesday, China's English-language Global Times newspaper called on authorities to take necessary steps in Xinjiang, including recruiting more local police, in an effort to stop ensuing violence in the region.
The demand came two days after 16 people, including two police officers and 14 "thugs," were killed during the clashes between Chinese security forces and armed men in Shufu County near the old Silk Road city of Kashgar.
According to the state-run Tianshan news portal, the incident took place when the police attempting to arrest "criminal suspects" in the area, were attacked by several "thugs" armed with explosives and wielding knives.
The Global Times stressed the need for "trust" between the ethnic minority living in Xinjiang and China's majority, saying, "Winning the hearts of the public in sensitive areas has decisive significance."
"The whole country should be dedicated to dissolving the estrangement between the two sides," the paper added.
Meanwhile, the Tianshan news portal said on Monday that Chinese police have arrested six people, suspected of involving in Sunday killings, what the government has called "an organized, pre-mediated, violent terror attack."
According to the local portal, police forces have also seized a number of explosive devices, homemade firearms, knives and other weapons, reporting, "The local social order is normal."
Xinjiang, home to the mostly Muslim Uighur ethnic minority, has been the scene of numerous deadly clashes in recent years.
Last month, at least nine civilians and two policemen reportedly lost their lives when a group of armed people attacked a police station near Kashgar.
China beefed up security in Xinjiang after a vehicle ploughed into crowds of tourists in Beijing's Tiananmen Square in October, killing the three people in the car and two bystanders. According to the police, the attack was carried out by three Uighurs.