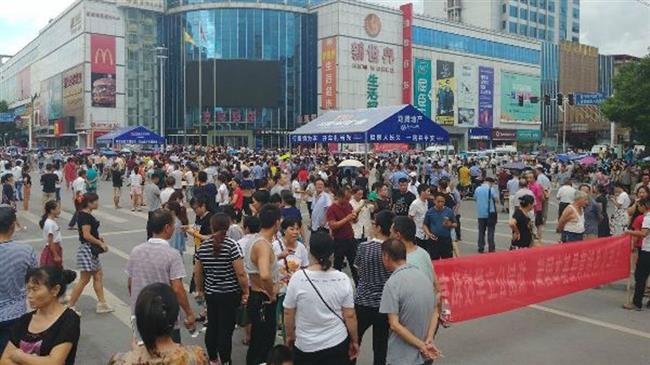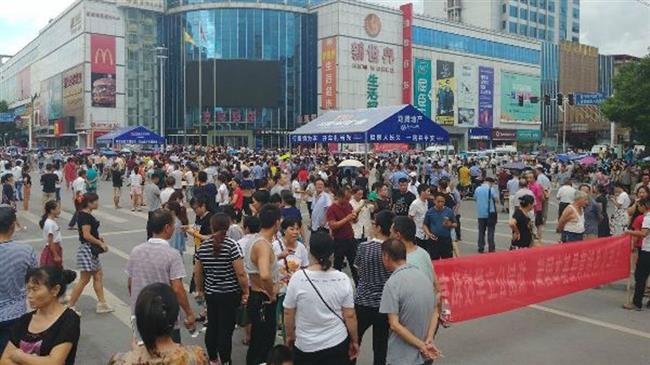 Chinese police have detained 46 people in the country's south following a violent protest triggered by public dissatisfaction with the local school system.
The arrests took place on Sunday after more than 600 protesters gathered outside a police station in Leiyang city in Hunan Province, throwing bottles, bricks and firecrackers at officers attempting to address the crowd.
Leiyang police said in a statement on their official website that the protesters "attacked" the station, prompting security personnel to detain them for disturbing public order and damaging police facilities.
Over 30 officers reportedly sustained injuries during the protests.
The protesters, as police stated, were angry about the difficulty of enrolling their children at public schools and staged rallies near six schools and a government building, blocking roads and main squares.
Citing posts on Chinese social media, AFP said in a report that trouble began after parents of some middle school students were ordered to move their children into dormitories at a local private school, a measure that would result in a dramatic increase in tuition fees.
The parents had also complained about the unsafe levels of formaldehyde – a colorless and strong-smelling gas used in making household products – detected in some middle schools' newly renovated dormitories.
Problems affecting children's health and education are particularly sensitive subjects in the East Asian country, where government policy for decades limited parents to only one child.