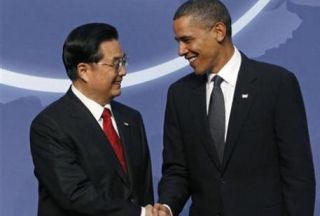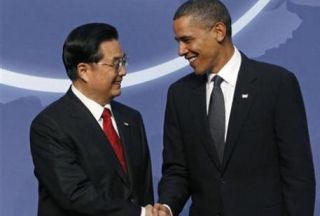 Chinese President Hu Jintao has told US President Barack Obama that Beijing wants to coordinate with Washington on major regional and international issues.
"I'm happy to note that thanks to the joint efforts of both sides recently, real progress has been made in this relationship," AFP quoted Hu as saying on Saturday.
"We need to continue to follow the spirit of staying the same course and uniting together," Hu said during a meeting with Obama on the sidelines of the Group of Eight summit in Canada, noting the need for both countries to work for global economic recovery.
"We also want to strengthen the community in coordination with the US side on major regional and international issues," the Chinese president stated.
Hailing China's move toward greater currency flexibility, Obama said the two sides had tried hard over the past 15 months "to build a relationship of trust, of mutual confidence and… have accomplished many things."
In May, the two economic powers signaled progress in their pivotal relationship at high-profile annual talks after months of tension.
Saturday's meeting came after a visit to Beijing last month by US Secretary of State Hillary Clinton and Treasury Secretary Timothy Geithner.
Later in the day, White House adviser Jeffrey Bader said Hu had accepted Obama's invitation to make a state visit to the United States.
In recent years, Beijing and Washington have been at odds on a number of issues ranging from trade and the value of the yuan to Internet freedom and Taiwan.