Africa
Christian mob ransacks mosque in Central African Republic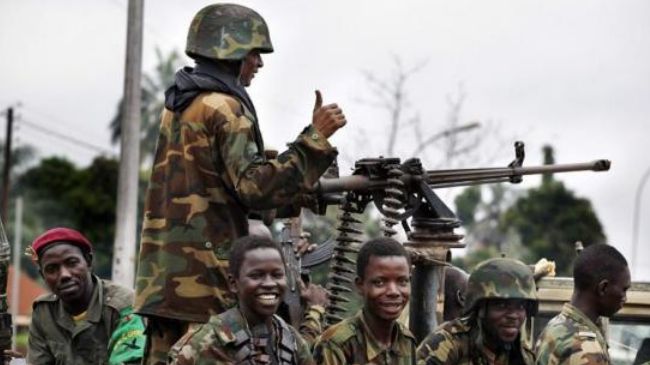 A mob of Christian youths in the Central African Republic (CAR) has ransacked a mosque in the capital Bangui and blocked surrounding streets with burning tires.
The attack, which took place on Thursday, was a retribution for an alleged attack against a Catholic church a day earlier.
According to reports, the mosque was empty at the time of the attack and no casualties are reported.
In recent months, Christian militiamen have been raging violence against the Muslim minority in the CAR, killing thousands of them and displacing many more.
"For six months we have been the ones subjected to violence and the destruction of our mosques," AFP quoted Ousmane Abakar, a spokesman for Bangui's Muslim community.
Abakar also denounced the Wednesday attack on the Church and denied that it was carried out by Muslims.
On Sunday, Christian militias killed and mutilated three Muslims on their way to a friendly soccer match in the capital.
The Central African Republic has been facing deadly unrest since December 2013, when Christian armed groups launched coordinated attacks against the mostly Muslim Seleka group that toppled the government in March 2013.
In February, Amnesty International said a campaign of "ethnic cleansing" is underway against Muslim civilians in the Central African Republic despite the presence of thousands of foreign troops in the country.
In December 2013, France deployed forces to the CAR after the United Nations Security Council adopted a resolution giving the African Union and Paris the go-ahead to deploy troops to the country.