Syria
Christian(?) Obama's "Free Army" torches a church in Tal Abyad, Raqqa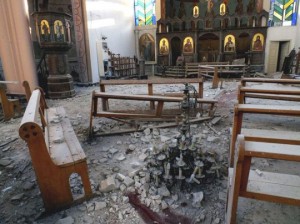 Al-Hamzeh battalions of "Free Army" did last night torch al-Istiqlal Church in the city of Tal Abyad in Raqqa countryside, as it completely ransacked the church.
It is noteworthy that the church has stopped performing any religious activity since armed opposition and "Islamic State of Iraq and the Levant" (ISIL), Al Qaeda branch in Syria,  controlled the city about a year ago.
Local sources in the very city mentioned that displaced families who came from several areas took the church a shelter.
Syrian Center for Documentation posted a video that shows the wreckage caused by militants.
Sources: http://breakingnews.sy/en/article/27902.html
Sources: