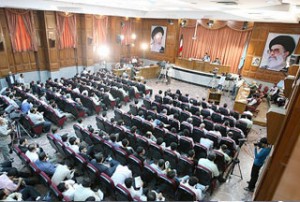 The following are the confessions of Muhammad-Reza Ali-Zamani, a member of an anti-revolutionary group known as the Iranian Empire Society.
The 37- year-old Iranian national from the southwestern city of Eslamshahr is accused of contacting US intelligence agents in Iraq, cooperating with the "Anjoman-e Padeshahi-e Iran" (Iranian Empire Society), and attempting to overthrow the Islamic Republic by targeting religious beliefs.
His confessions at Tehran's revolutionary court are as follows:
I was born to a religious family. I have been engaged in cultural activities to an extent that I created an institution in Tehran and Eslamshahr in a bid to serve the nation and pursue cultural activities.
I became so influential that I was invited to meetings on the provincial level. In addition to these meetings, I also met with different political parties.
In order to serve my people I turned to different satellite channels. I wanted to become familiar with different views on the other side of the world and help create better society.
During the discussions on the channels, I observed major contradictions, which prompted me to find credible answers. After a while, I stumbled upon a channel named "Your TV".
In its programs, a spokesman for the Iranian Empire Society spoke of a society without any problems. I was absorbed by the idea. He also spoke of plans to overthrow the Islamic Republic, connecting all menaces inside Iran to the Islamic governance.
After watching the channel for a considerable amount of time, I decided to contact the society in their London office. I called their office and spoke with Dordaneh Fouladvand.
After a while along with some of my friends, I decided to travel abroad and officially join the group. We contacted Ms. Fouladvand on the matter. She said before leaving the country we should carry out a mission for the society.
We were ordered to distribute a large number of CD's containing anti-religious material in the capital Tehran. Copies of the illegal Satanic Verses were also circulated in Tehran. We then headed towards the north of Iraq and illegally exited Iran.
After arriving in the Iraqi city of Arbil where US forces were stationed, I contacted the US intelligence services and talked to an individual called Frank, who was the region's intelligence officer
Then after I briefed them on our situation, they gave us money and reserved a room for us at a hotel. They even gave us a special cell phone to contact Frank if we encounter any security problems.
I then reported back to Fouladvand, who then referred me to a contact in the American city of Los Angeles, operating under the alias of Jamshid.
After a while, Jamshid assigned me to several operations such as taking part in an interview with Euro TV, carrying out a bombing and terrorist attacks."
I was also briefed by my American contacts in Iraq who sought detailed information related to the government and student movements inside Iran.
I was then approached by an Israeli named Iman Afaq who in turn had introduced him to another contact in the semi autonomous Kurdistan region in Iraq. The contact said he was a member of the Israeli secret service, Mossad.
I was then assigned with an operation inside Iran with the purpose of maximizing the number of casualties.
The operation, code named as Salman, was to identify senior offices within the government, the Basij and appropriate locations for prospective bombings.