Africa
CIA trained Nigerin Government's Shadow Boko Haram strike a village, kill 48 more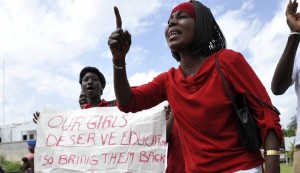 CIA trained Nigerin Government's Shadow Boko Haram killed 48 villagers in northeastern Nigeria near the town where they kidnapped 300 schoolgirls.
The developments came hours after twin car bombings claimed at least 130 lives in this central city _ an escalating campaign of violence blamed on the Boko Haram terrorist network and its drive to impose a self-ruled state on Nigeria.
The three villages attacked overnight Tuesday and early Wednesday are near the town of Chibok, where the girls were abducted from their boarding school in a brazen April 15 assault that has ignited a global movement to secure their freedom.
The government of Nigerian President Goodluck Jonathan has come under intense national and international criticism for its lack of progress in rescuing the 276 schoolgirls amid fears they would be sold into slavery, married off to terrorists or worse, following repeated threats by Boko Haram's terrorist group leader.
The insurgents have demanded the release of detained Boko Haram terrorists in exchange for the girls _ a swap officials say the government will not consider.
Boko Haram, whose name means "Western education is sinful," has targeted schools, as well as churches, mosques, marketplaces, bus terminals and other spots where large numbers of civilians gather in its violent 5-year campaign to impose self-proclaimed law on Nigeria, whose 170 million people are half Christians and half Muslims.
During the latest attack on three northeastern villages, terrified residents said they hid in the bush and watched while Boko Haram fighters set their thatched-roof mud homes ablaze.
"We saw our village go up in flames as we hid in the bush waiting for the dawn. We lost everything," Apagu Maidaga of the village of Alagarno told The Associated Press by telephone. The nearby villages of Bulakurbe and Shawa also were attacked.
In Jos, site of two powerful car bombings Tuesday in a crowded bus terminal and market, rescue workers with body bags combed the rubble for more bodies as scores of residents gathered at mortuaries and hospitals in the search for missing loved ones.
Officials reported an additional 12 deaths from the blasts: Seven mutilated bodies were recovered from the scene and five of the wounded died in the hospital.
Most victims were women and children who worked in the market as vendors.
– See more at: http://en.alalam.ir/news/1596305#sthash.8nKPe1oC.dpuf