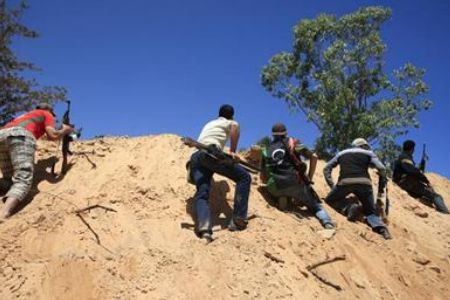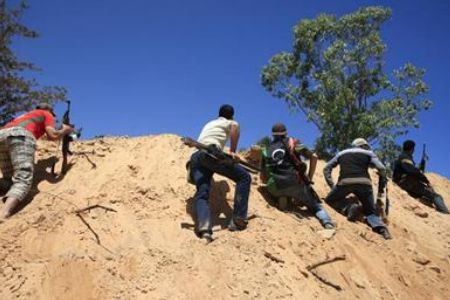 Clashes between Libya's revolutionary forces and troops loyal to Muammar Gaddafi continue for the second day in the town of Zawiyah near the capital, Tripoli.
Opposition sources say at least 13 people, including a 7-year old boy were killed in the fighting on Saturday.
"Fierce fighting is taking place now. The [government] brigades have been receiving reinforcements, their number is increasing," Reuters quoted an opposition spokesman as saying on Sunday.
Libya's revolutionaries say Gaddafi forces have been receiving reinforcements and are out in numbers.
"There are many snipers on rooftops of buildings and mosques. They are the main threat to the residents."
Zawiyah lies about 50 km (30 miles) west of Tripoli.
Intense fighting has also been reported in the western town of Zintan, controlled by the revolutionaries.
Reports say Gaddafi troops pounded the city with Grad and Katyusha rockets, causing serious damage.
There is no immediate report of casualties yet. The rebel offensive was aimed at seizing a town between Zintan and Yafran, contested by both sides.
Libya has been the scene of fighting between pro-Gaddafi troops and Libya's Revolutionary Forces since mid-February.
Revolutionary forces want an end to Gaddafi's decades-long rule.
Moreover, NATO has recently stepped up its air raids over Libya with the introduction of French and British attack helicopters.
The US and NATO have unleashed a punishing, UN-mandated offensive against beleaguered Libyan ruler Gaddafi to pressure him into relinquishing power.
However, NATO airstrikes have killed scores of civilians as well as revolutionaries.