World News
Clashes continue in Nagorno-Karabakh despite truce deals
Clashes have continued between Azeri and Armenian forces in Nagorno-Karabakh despite three attempts to establish a ceasefire.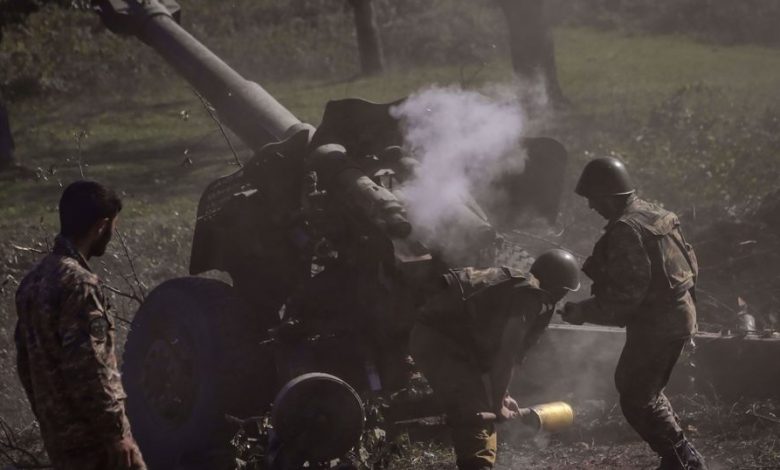 Nagorno-Karabakh's self-proclaimed defense ministry said on Tuesday that clashes continued in "some directions" of the conflict zone, noting that its forces "continue to implement combat tasks, keeping the operative-tactical situation under control."
It said the situation in the conflict zone "remained relatively stable and tense" overnight.
"Artillery duels continued in some areas," it said. Shells landed in the towns of Martuni and Martakert, as well as villages in the northern part of Askeran region.
According to Azerbaijan's Defense Ministry, fighting concentrated in three front-line areas, namely Khojavend, Fizuli, and Gubadli. The ministry said its military positions and settlements near the front-line had been fired upon.
The clashes come even though Baku and Yerevan announced they would begin a third US-mediated attempt to establish a lasting ceasefire on Monday, after four weeks of fighting. Two earlier Russia-brokered ceasefire agreements collapsed immediately after taking effect, with both sides accusing each other of violations.
Armenian Defense Ministry official Artsrun Hovhannisyan told a press conference late on Monday that ethnic Armenian forces had withdrawn from the settlement of Gubadli south of the enclave "to avoid unnecessary losses," but the situation was "not critical."
Azeri troops attack post near Iranian border: Armenia
The Armenian Defense Ministry said the Azerbaijani armed forces had launched attacks on an Armenian frontier post on the border with Iran.
"This morning, from 10:00-10:15 [06:00-06:15 GMT], the Azerbaijani side violated the ceasefire again and used drones (of which one fell on the Armenian territory) and artillery weapons to shell a border post on the southern border with Iran," ministry spokeswoman Shushan Stepanyan wrote on Facebook, and warned that it would launch retaliatory attacks against Azerbaijani forces.
The Azeri attack reportedly caused no casualties.
The Azerbaijani Defense Ministry denied the claim.
'Armenia hits Azeri border posts'
The spokeswoman also said on Tuesday that Armenian forces had conducted preventive strikes against Azerbaijani forces.
"To put an end to Azerbaijani air force, Armenian border service took preventive action at Armenia's southern border," Stepanyan said, adding that Azeri forces had suffered heavy losses in the attacks.
Karabakh is internationally recognized as part of Azerbaijan, but it is held by ethnic Armenian separatists backed by Armenia since 1992, when they broke from Azerbaijan in a war that killed some 30,000 people.
The ongoing fighting erupted in late September.
Azerbaijan captures Armenian forces
The head of the forensic department of the Armenian Investigative Committee said Tuesday that 17 Armenian servicemen "are being held captive in Azerbaijan."
Rafael Vardanyan said at a news conference "We are verifying the information on another two."