India
Clashes erupt in Indian-controlled Kashmir after 4 killed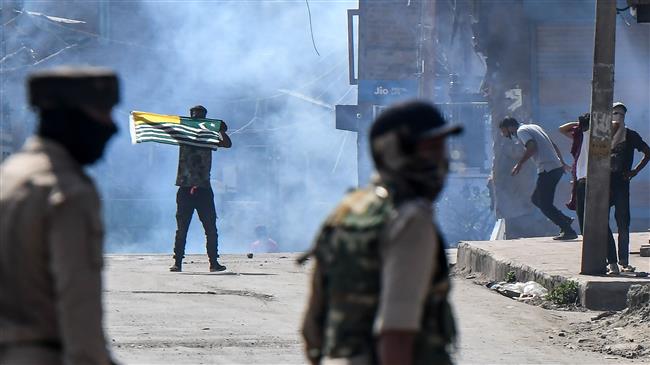 Hundreds of protesters have clashed with government forces in the Indian-administered Kashmir after a fire exchange that left three suspected militants and a woman dead in the disputed Himalayan region.
Police said the three unidentified militants, believed to be locals, were killed in the firefight that lasted several hours after midnight on Wednesday in the Batamaloo neighborhood of Srinagar, the summer capital of the Indian-administered Kashmir.
The encounter, which also claimed the life of a 45-year-old woman, took place following an alleged tip-off that armed militants were hiding inside a residential house.
The news of the deaths drew hundreds of residents to the streets in Srinagar on Thursday, with protesters pelting stones at government forces and shouting slogans such as "Long live Pakistan!" and "We want freedom."
Police and security forces fired tear gas and metal pellets to suppress the protesters. No injuries were immediately reported from the clashes.
Kashmir has been split between India and Pakistan since their partition in 1947. The countries have fought three wars over the territory.
The Thursday fatalities came a day after similar protests in the northeastern Kashmiri town of Sopore, where a 26-year-old was found dead following his detention by police. The victim's family accused Indian police of torturing and killing him and later dumping his body in an open area.
India has stationed more than half a million soldiers in Kashmir to quell a pro-independence uprising that first erupted in 1989.
Reports say at least 47 civilians, 73 government troops, and 192 militants have been killed in armed violence across the disputed territory this year.
Kashmir, claimed by both India and Pakistan, was the scene of renewed clashes this month as it marked one year since New Delhi abolished the region's semi-autonomous status.
Last year, Indian Prime Minister Narendra Modi's Hindu nationalist government announced it was removing Kashmir's special status. India also announced the division of the state into two territories to be directly ruled from New Delhi.
Following the announcement of the removal of Kashmir's special status, Indian authorities imposed movement restrictions, made arrests, and blocked communication to thwart protests.