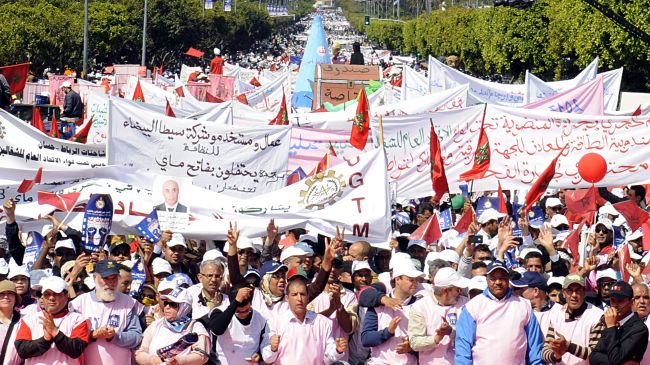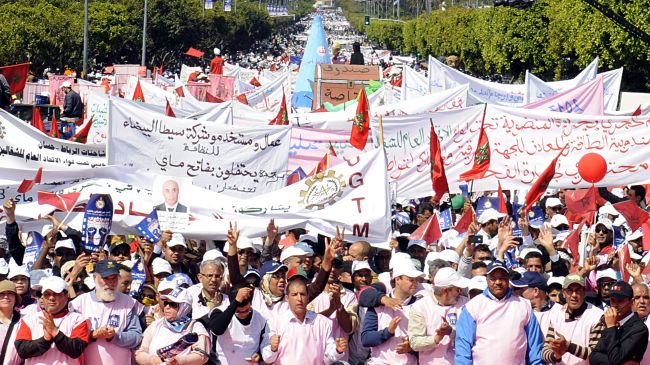 Clashes have erupted between security forces and demonstrators demanding jobs and higher pay during May Day rallies in Morocco.
Chanting anti-government slogans, thousands of people poured into the streets of the capital Rabat on Wednesday.
"The people want the fall of the government!" shouted protesters.
Several people have been wounded after riot police used force to disperse protesters trying to pass the parliament building.
Meanwhile, thousands of demonstrators, including unemployed graduates and public sector employees, held a similar rally in Casablanca, Morocco's largest city and economic capital.
They called for an end to corruption in the country and better working conditions.
Unemployed protester Mohamed Abdelmoneim has criticized the performance of the ruling Party of Justice and Development (PJD), saying that "when the PJD came to power, they said they'd find a solution to the job crisis. But they've done nothing to help us."
The country has been facing serious economic troubles over the past few years, with high unemployment rate and rising levels of poverty.
Anti-government protests broke out in Morocco on February 20, 2011. Morocco's King Mohammed VI announced some reforms following the rallies, amending the Constitution to curtail his powers and hold early elections. The protesters, however, say the reforms do not go far enough.