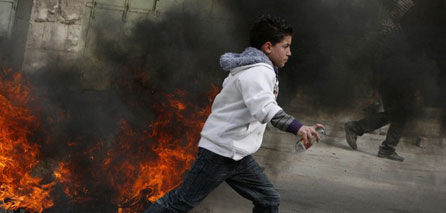 Hundreds of Palestinian students clashed with Zionist forces in the occupied West Bank on Wednesday morning.
Witnesses said violent confrontations were underway at the Beita junction, south of Nablus in the northern West Bank.
No injuries or arrests were reported in the ongoing incident, which erupted at a Zionist military checkpoint.
Abbas forces prevented students from protesting near Beit Jala, apparently in a bid to prevent an escalation of the past 48 hours of violence.
The violence comes a day after confrontations over access to holy sites in occupied East Jerusalem injured dozens of Palestinians and police. Over 91 Palestinians were injured, with 60 detained, officials said.
About 40 sustained wounds from rubber-coated bullets fired by Zionist forces, with seven sustaining injuries to the eye. An international journalist was injured in Eisawiyyah, an East Jerusalem neighborhood.