Egypt
Clashes in Egypt leave 11 dead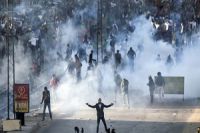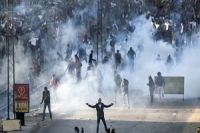 Fierce clashes between Egyptian anti-government protesters and security forces have left at least 11 people dead.
On Friday, eight protesters died in the Helwan neighborhood of the capital Cairo, while three others were killed by security forces in Alexandria, the country's second-largest city.
Other reports gave different death toll figures from the violence as supporters of the Muslim Brotherhood continued protests against crackdown on demonstrators.
Dozens of protesters were also arrested by the country's security forces.
Egypt has been experiencing unrelenting violence since the country's first democratically-elected president, Mohamed Morsi, was ousted on July 3, 2013. Hundreds have lost their lives in the ensuing violence across the country.
On Monday, an Egyptian court sentenced 683 members of the Muslim Brotherhood, including supreme leader Mohamed Badie, to death.
The Egyptians launched a revolution against Hosni Mubarak's pro-Israeli regime on January 25, 2011, which eventually brought an end to his 30-year dictatorship on February 11, 2011.