Turkey
Clashes in Turkey over trial of two hunger-striking teachers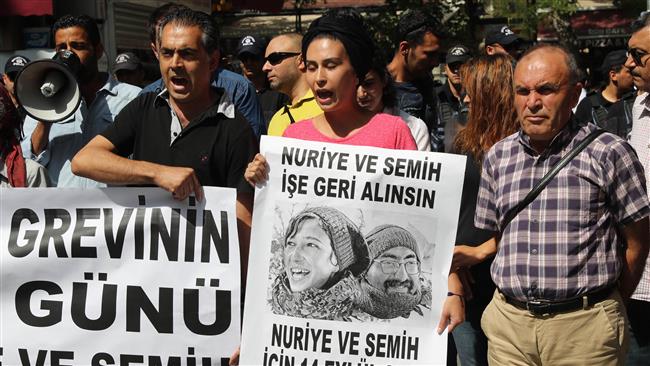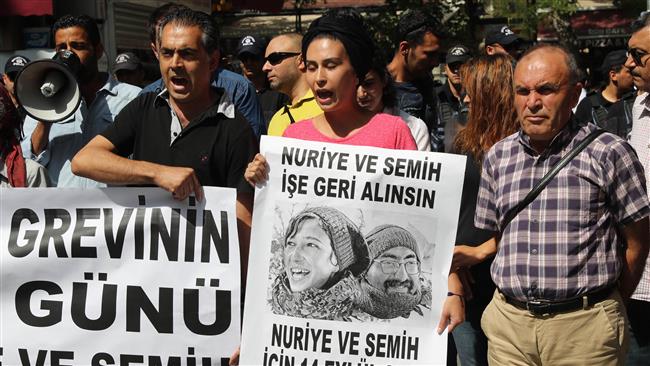 Turkey has begun a controversial trial for two hunger-striking teachers amid violent clashes between police and protesters in the capital Ankara.
Police used tear gas to disperse protesters outside the courthouse in Ankara where literature professor Nuriye Gulmen and primary school teacher Semih Ozakca were tried in absentia.
Police said the two were prevented from appearing in court as there was a risk of escape.
The two teachers are reportedly in a dangerously weak state of health as they have been surviving on liquids and supplements for six months to draw attention to the situation of tens of thousands who have been jailed or discharged from their jobs in Turkey over their suspected role in a failed coup last year.
Authorities have also issued arrest warrants for 18 of lawyers representing Gulmen and Ozakca. Critics say the government is trying to intimidate judges by the arrests and the forced absence of the teachers in the court.
Gulmen and Ozakca were arrested in May over alleged links to the DHKP-C, a militant group deemed as terrorist by the Turkish government. Many have criticized their detention and trial who attended the protest outside the courthouse on Thursday. Reports said at least 100 lawyers turned up for the court hearing.
Turkey's continued state of emergency has enabled the government to arrest at least 50,000 people on charges of having links to the masterminds of the July 15, 2016 coup attempt. Some 150,000 like Gulmen and Ozakca have also been suspended or fired from their jobs over the same allegation.