Iran
Clear-cut nuclear solution possible: Iran speaker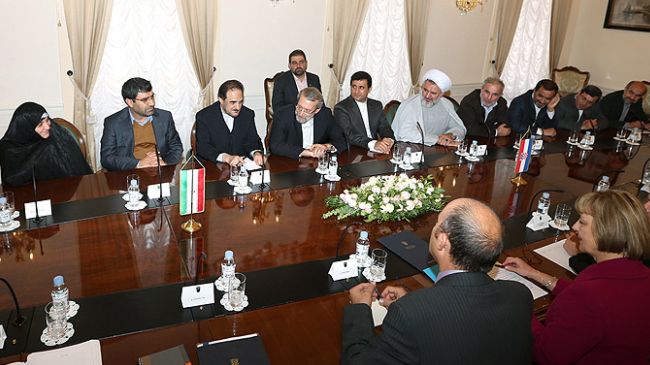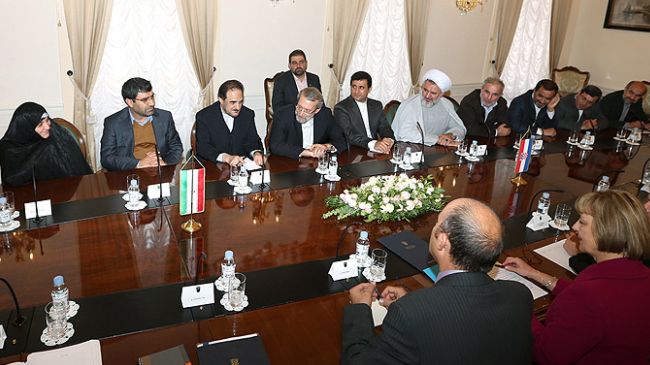 Iranian Majlis Speaker Ali Larijani says Iran and the six major world powers can work out a "clear-cut solution" to the West's dispute with Tehran over its nuclear energy program.
"We think that we can reach a clear-cut solution [to the nuclear issue]; therefore, there is no reason to be pessimistic about this round of negotiations [in Geneva]," Larijani said at a dinner banquet at Iran's Embassy in Zagreb, Croatia, on Thursday.
He added that certain foreign sides sought to prevent the solution of the nuclear dispute "but now we are in a situation where the issue has to a large degree become clear."
"We are serious in [Geneva] talks and expect the other sides to be serious too, and properly understand the realities," the Iranian Majlis speaker pointed out.
EU Foreign Policy Chief Catherine Ashton said on September 26 that the next round of negotiations between Iran and the five permanent members of the UN Security Council – Russia, China, France, Britain and the US – plus Germany would be held on October 15-16 in Geneva, Switzerland.
Ashton made the remarks after a meeting between the foreign ministers of Iran and the six countries at the United Nations headquarters in New York.
Iran and the six major world powers have held several rounds of talks on a range of issues, with the main focus being on Tehran's nuclear energy program.
Larijani further said that during his visit to Croatia he held "good discussions" with the country's officials on ways to improve mutual relations, adding that Iran has a positive view on the European Union, particularly Croatia.
He expressed hope that Tehran and Zagreb would forge closer cooperation given their common interests.
Meanwhile, in a meeting between Iran's Majlis speaker and Croatia's First Deputy Prime Minister and Minister of Foreign and European Affairs Vesna Pusic, the two sides discussed avenues for bolstering bilateral relations and finding a political solution to the crisis in Syria.
Pusic said Croatia recognizes Iran's right to peaceful nuclear technology.
She added that regional problems would gradually be resolved given Iran's potential and influence in the region.
She expressed hope that Larijani's visit to Croatia would open a new chapter in bilateral ties, including the exchange of political and parliamentary delegations