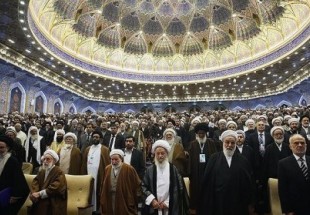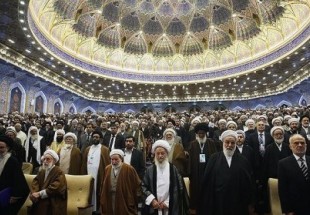 International conference on Takfir in view of Muslim scholars opened in the holy city of Qom attended by Muslim scholars and elites from across the world, reported Taqrib News Agency (TNA).
Grand Ayatollah Makarem Shirazi, senior Iranian cleric, in the opening ceremony of the world event expressed hope for some solution against the issue of Takfir saying that the greatest mission of Muslims is to study Takfiri ideologies in a bid to uproot the extremist movement.
He called Islam as the religion of affection and said," These extremist movements have introduced Islam as the creed of the violence and we have to prove their detachment from Islam."
Top cleric in his speech counted three redlines for the global conference: avoiding political issues, avoiding any disintegrating religious issue and also respecting all religious sanctities.
He added," Muslim world has been witness to violent attacks and that has led to bloodshed, destruction of Muslim cities, destruction of religious sites and also massacre of thousands of Muslims." Expressing regret over the issue to be an excuse for the enemies to attach Islam with violence.
Iranian religious figure also stressed that it is not by accident that anti-Islamic movements stress an Islamic title for DAESH.
Ayatollah Makarem Shirazi highlighted importance of all out efforts by Muslim clerics for studying the roots ideologies and their methods for absorbing the youths.
Professor of Qom Seminary referred to the holy book of Islam which has clearly drawn the line between Muslims and non-Muslims but umbrellas all Muslims in their fraternal ties.
He warned against ignorance of the Muslims and said ignorance of the Muslims has led to appearance of a group of ignorant people called Takfiris.
Ayatollah Makarem stressed studying the main root of the movement and referred to the warnings of Salafi moves against Takfir calling for punishment of the terrorist group.
The cleric highlighted autonomy of the Takfiri groups and their excommunicating all other religious groups.
He said the second reason is their belief in some verses of the hily Qur'an and rejection of the others.
The third reason for deviation of Takfiris, from the viewpoint of Ayatollah Makarem, is their analysis of belief and disbelief.
Top jurisprudent noted that only discussion of the problems is not sufficient rather discovering the solutions for uprooting the issue stating," Takfiri thoughts have misrepresented Islam while the present world is craving for true Islam and it is only through the unity of Muslims that the aliens cannot dominate Muslims."
Senior cleric also proposed formation of a permanent secretariat in an important Islamic capital with its member states from all Muslim states from across the world.