Iran
Middle East
Cleric: Palestinians' Victory over Israel "Triumph for Iran, Muslims"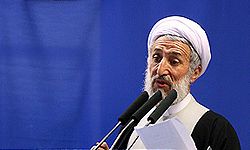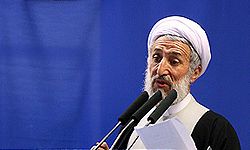 The recent victory over Israel by the Palestinian Resistance groups was a victory for all Muslims and a direct triumph for Iran, a senior Iranian cleric said on Friday.
Addressing a large congregation of worshippers on Tehran University Campus on Friday, Tehran's provisional Friday Prayers Leader Hojjatoleslam Kazzem Sediqi lauded the glorious victory of Palestinians over Israel in the 8-day Israeli onslaught on the Gaza Strip.
"When the Zionists attacked Gaza and were met by the Palestinian resistance groups' missile defense, their Iron Dome was shattered and they once again realized that no power can protect itself against the will of God," he said.
The cleric further slammed the silence of international community and organizations claiming to be advocates of human rights in the face of the criminal acts of the Israeli regime in the Gaza Strip.
Israel triggered an 8-day fighting by assassinating the military chief of the ruling Hamas group on November 14 followed by dozens of airstrikes on Gaza.
In response, Palestinian groups fired over 1,500 missiles and rockets at Israel.
Palestinian resistance groups targeted Tel Aviv and areas near Jerusalem for the first time in the history of confrontations between the two sides, launching a rocket attack in a major escalation of hostilities as Israel pressed forward with relentless airstrikes on the Gaza Strip.
Israel called up thousands of reservists and massed troops along the border with Gaza, signaling a ground invasion of the densely populated seaside strip could be imminent.
But the attack on the Israeli settlement, along with an earlier strike on Zionists' capital Tel Aviv, frightened the Israeli regime, making it drop its aggression plans and ask for third party mediation.
Eventually, a Cairo-mediated ceasefire agreement, which took effect on Wednesday November 21, ended the Israeli attacks, which killed more than 165 Palestinians and injured about 1,269 others.