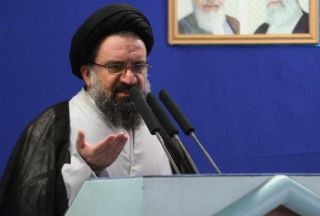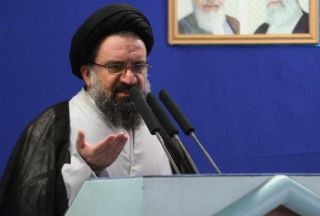 A senior Iranian cleric has slammed new UN sanctions on Iran, warning that Tehran would take action against the enforcement of any part of the punitive measure.
Tehran's interim Friday Prayers Leader Ayatollah Seyyed Ahmad Khatami described the UN Security Council's move to endorse the US-brokered tougher sanctions on Iran's nuclear program as an instance of "bare-faced oppression" against the Iranian nation.
"In recent years, you have approved three other rounds of sanctions against the Iranian nation besides the 1929 Resolution but you achieved nothing by adopting these resolutions," he addressed the Security Council.
Stressing that the Iranian nation would not put up with oppression, Ayatollah Khatami warned that the enforcement of any part of the new sanctions would draw a strong retaliatory response from the Islamic Republic.
The senior cleric downplayed the impact of the new sanctions on the country's economy and industry, bashing Europe for following in the tracks of the US in opposing Iran's peaceful nuclear program and pressing Tehran to halt its enrichment activities.
"For the European Union member states, which claim they want to be independent, it is not proper to tie their fate to that of the declining US administration," he said, warning the EU against accompanying the US in its fall.
The remarks were a reference to the EU move to approve unilateral sanctions targeting Iran's financial and energy sectors along with the US in addition to the Security Council's resolution.
The West has been urging Iran to stop its nuclear activity despite assurances by Tehran and several reports by the International Atomic Energy Agency (IAEA) on the non-military nature of Iran's nuclear program.
Despite possessing nuclear warheads and having used nuclear weapons in the past, the US is pushing for unilateral sanctions against Iran — a country does not possess nuclear arms nor seeks to develop such weapons.