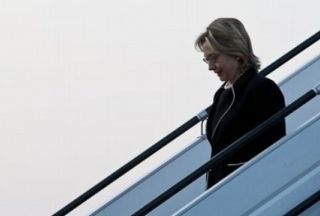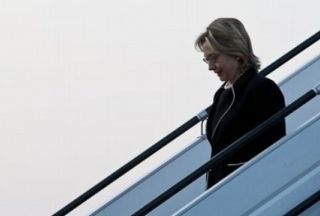 US Secretary of State Hillary Clinton has flown to Azerbaijan's capital where she is scheduled to hold talks with Azeri President Ilham Aliyev.
Clinton arrived in Baku overnight on Saturday and is to discuss regional issues in the Caucasus with Aliyev.
Among the issues high on the agenda will be the conflict between Azerbaijan and Armenia over the enclave of Nagorno-Karabakh, which is currently controlled by ethnic Armenians.
At the Group of Eight summit in Toronto last week, Russia and the US called for a "peaceful solution" to the conflict and urged the leaders of the two countries to "start working on a peace accord."
On Friday, Clinton was in Ukraine as part of her major tour of Russia's near abroad, where she told officials in Kiev that the door to NATO membership was still open.
The visit came amid concerns over Ukraine's shrinking economy.
In late 2009, the International Monetary Fund decided to halt disbursement of a $16.4 billion rescue loan package due to Kiev's violations of the fund's austerity rules.
Clinton said the United States was ready to help Ukraine by investing in its energy industry "including in the nuclear energy sector, as well as helping developing the gas sector."
The Ukrainian energy sector suffered a major blow in early 2009 after a dispute between Kiev and Moscow over the former's outstanding gas debts led the latter to stop its energy exports to Ukraine.
Following her visit to Baku, the US secretary of state is also scheduled to make brief stops in Armenia and Georgia on Monday.