Iran
Closing Fordow facility, Iran redline: Lawmaker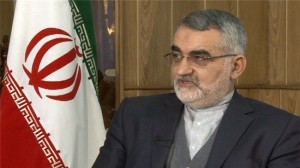 Senior Iranian lawmaker Alaeddin Boroujerdi says the closure of Iran's Fordow nuclear facility is one of the country's redlines at the nuclear talks with the group of six major world powers.
"Fordow is one of Iran's redlines and will definitely not be closed," the chairman of Iran's Majlis National Security and Foreign Policy Committee said on Saturday.
Boroujerdi added that Iran has taken measures to make the facility immune to potential bombardment in case the Israeli regime commits the folly of actually attacking the site.
Fordow is producing uranium enriched to the 20-percent purity. Iran decided to enrich uranium to the 20-percent purity to supply fuel for Tehran Research Reactor, which produces medical isotopes for cancer patients, after potential suppliers failed to provide the Islamic Republic with the required uranium.
The Iranian lawmaker said suspending enrichment activities was another redline of the Islamic Republic at the nuclear talks.
Boroujerdi noted that the Islamic Republic will never suspend its uranium enrichment activities, which were for some reasons suspended during the tenure of former president Mohammad Khatami.
During a meeting with Majlis National Security and Foreign Policy Committee on October 20, Iran's chief nuclear negotiator Abbas Araqchi said Tehran has informed the five permanent members of the UN Security Council plus Germany that the Islamic Republic would not stop uranium enrichment and that discussing the closure of Fordow was not on the agenda of the Iranian negotiating team.
Iran and the group of six world powers – the United States, China, Russia, France, Britain and Germany – held two days of negotiations over Tehran's nuclear energy program behind closed doors in the Swiss city of Geneva on October 15-16.
Boroujerdi added that despite the sanctions and threats of the West against the Islamic Republic, the knowledge of young Iranian nuclear scientists has overcome the Western punitive measures.
Referring to the obstacles created by the West to hinder the activity of Tehran Research Reactor, the Iranian lawmaker said, "Although they challenged the activities of this reactor, which produces medicine for 800 thousand cancer patients, once again the capability of Iran's nuclear scientists astounded the Westerners."
The United States, Israel and some of their allies have repeatedly accused Iran of pursuing non-civilian objectives in its nuclear energy program. Iran categorically rejects the allegation.