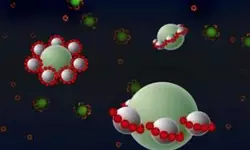 Taking advantage of carbon nanotube technology, researchers at Iran's Semnan University managed to design a generation of novel and improved transistors.
The first carbon nanotube field-effect transistor (CNTFET) was invented in 1998. Apart from their rapid operations and other advantages, these types of transistors have their own weak points, including off-state drain-voltage dependency, ambipolar behavior, and excessive switching activities.
Proposing newer models for such devices leads to better understanding of their electronic characteristics and thus to the removal of defects from them. Consequently, a series of profound research and investigation on these transistors, which are regarded as the most probable replacements for conventional silicon transistors, seems to be necessary.
According to the Iranian Nanotechnology Initiative Council (INIC), a group of Iranian chemists found a unique method for bulk synthesis of long, straight and ordered carbon nanotubes with a thickness of less than few atoms.
Also, they have determined some growth conditions suitable for producing uniformly ordered semiconductor nanotubes expected to be very useful in electronic industry.
The researches, who studied CNTFET scalability through changing halo doping, contaminated the channel with type-P atoms in the vicinity of the transistor source to increase the threshold voltage with decrease of channel length.
This contamination leads to an intensive reduction in current leakage, betterment of threshold fluctuations, plus an increase in voltage gain and off/on current ratio.
The electronic properties of transistors can be controlled by varying the channel length and its contamination degree.