Latin America
World News
Colombia presidential vote headed for a runoff between leftist and right-wing populist
Colombia's presidential election appears to be headed for a runoff after preliminary results on Sunday showed no candidate garnering over 50 percent of the votes needed to clinch the race in the first round.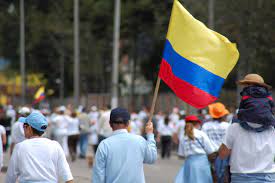 Early results, based on around 99 percent of the votes counted, showed left-wing contender Gustavo Petro winning just over 40 percent of the votes, former mayor of Bucaramanga Rodolfo Hernandez 28 percent and right-wing candidate Federico "Fico" Gutierrez 23 percent.
Petro and Hernandez are now expected to take on each other during a second round of voting on June 19.
Out of 39 million eligible voters in the country, 21 million people voted in Sunday's election, which comes in one of the most turbulent times in Colombia's modern history.
Nearly 40 percent of Colombians live in poverty today, and the country has one of the highest levels of income inequality in the world, according to the World Bank.
The country's economy was also hard hit by the coronavirus pandemic, and one in six city dwellers is unemployed.
Petro, a former member of the M-19 guerrilla movement, has vowed to redistribute pensions, offer free public university and make changes.
"What's not in doubt today is change," Petro told cheering supporters in central Bogota. "Now it's about seeing what we will do with Colombia, what Colombian society wants for it's own country."
Hernandez, whose popularity rose through his colorful social media presence, especially on the TikTok app, has vowed to "clean" the country of corruption in the government.
"Today we know citizens have a firm will to end corruption as a system of government," Hernandez said in a video on social media. "The gangs who thought they would govern forever lost today."
Meanwhile, Iván Duque, the deeply detested outgoing president, is leaving with record disapproval numbers. He was prevented from standing again as he was restricted to a single term by the country's constitution.