Iran
Commander: Enemy's Shift to Defensive Strategy Indebted to Iran's High Power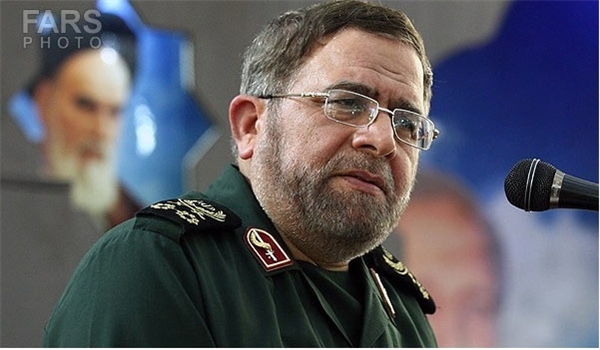 A senior Iranian commander underlined that enemies have shifted their strategy of military war against Iran to the defensive mode due to Tehran's high defense power.
"The current strategy of the US administration which is supported by the Zionist lobby is leaving impacts on the pillars of power in Iran," Commander of the General Staff of the Iranian Armed Forces' Cyber Headquarters Major General Mostafa Izadi said, addressing a forum in Tehran on Sunday.
"Meantime, the Islamic Republic has succeeded in changing the enemy's military strategy from offensive into defensive and that's an achievement of the country's defense power," he added.
General Izadi also said that the US dream of zeroing Iran's oil exports will not come true.
Chief of Staff of the Iranian Armed Forces Major General Mohammad Hossein Baqeri stressed late in January that his country could change its defensive approach to offensive if its interests are endangered by enemies.
"Of course, we do not have any greedy eyes on other countries' interests and soil but it is possible that we adopt an offensive approach to protect our interests to make foreigners keep thoughts of aggression against our country's interests away even from their minds by witnessing impacts," General Baqeri said, addressing a meeting in Tehran on Jan. 27.
Then, five days later, former Lieutenant Commander of the Islamic Revolution Guards Corps (IRGC) Brigadier General Hossein Salami said that if Western powers sought to limit Iran's missile power, the country would have no option but to expand its potentials in the strategically important field.
Salami, who is now the IRGC top commander, made the remarks on February 3, when he reiterated that Iran's strategy to maintain a cap on its missile power would change if the European Union and others sought to force the country into disarmament.
"If the Europeans and others want to pursue the missile disarmament of the Islamic Republic of Iran based on a plot, we will have no option but to resort to a strategic leap," said Salami while speaking to the Iranian television.
The commander said Iran had no technical limits to expand the range, the destructive power and the propulsion system of its missiles, adding that it was Tehran's policy to maintain a certain cap on the range of the missiles based on its own defensive strategy.
Salami said, however, that the cap could be removed if others decide to pressure Iran into dismantling its long-range missile arsenal.
"Our defense strategy can change commensurate with the conditions and changes in the behavior of role-players," said the IRGC deputy commander.