Iran
Commander: Iran Facing New Type of Threats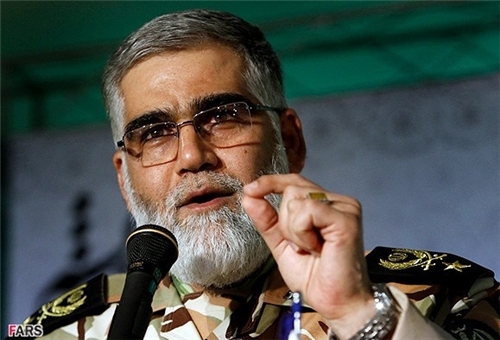 Commander of the Army Ground Force Brigadier General Ahmad Reza Pourdastan warned of new types of threats facing the Islamic Republic, and underlined the necessity for creating new technical and tactical capacities to confront them.
"Today, we are encountering a new face of threats as present threats are different from the past in shape and size," Pourdastan told reporters, addressing a ceremony to inaugurate an exhibition of the Army's defensive achievements in the Central city of Isfahan on Sunday.
Addressing the Iranian Armed Forces, he said, "We as the armed hands of the Islamic Republic have the responsibility to provide the necessary capacities proportionate to the threats and use them in our tactics and technics, and make the necessary use of our innovated weapons in this regard."
Pourdastan stressed Iranian experts' high capabilities, and said they display the Islamic Republic of Iran's might and power in any battlefield.
He underscored that "the Islamic Republic of Iran's doctrine is defensive and deterrent", but meantime boasted the country's progress in various military fields as he said, "We have reached desirable achievements in ground, air, marine, subsurface and missile defense fields."
In relevant remarks in April, Pourdastan warned that the country's Armed Forces are always prepared and will give a swift and crushing response to any aggressive military move.
"In case of any threat, our response will be more deadly and heavier," the commander said in Tehran at the time.
He underlined Tehran's policy of keeping peace and tranquility in the region and the world, but meanwhile said Iran monitors the moves of the regional and trans-regional states day and night and if any aggression is made against the country, it will receive a crushing response.
Also in December, Commander of the Islamic Revolution Guards Corps (IRGC) Quds Force General Qassem Soleimani downplayed Washington's war rhetoric against Tehran, and underlined that the US has collapsed in all the three arenas of economy, politics and military.
"The Americans and (US President Barack) Obama are lying when they assert that all options are on the table against Iran," Soleimani said in the Southeastern city of Sirjan.
"That the Americans say we have brought Iran to its knees by pressures and sanctions is nothing more than a lie, rather it is the US which has collapsed in political, economic and military arenas which are considered as the main elements of power," he added.
Soleimani noted the US failures in the three aforementioned areas, and reminded that the US has the largest volume of debts in the world. "The US has also failed in the military aspect in any country against which it has waged a war, including Iraq and Afghanistan," he added.
In the political field, he said, the US is also the most hated country in the world, meaning that it has fallen down in every aspect of power.