China
Iran
Middle East
Commander: Iran, Russia, China to Stage Joint Naval Drills on December 27
Commander of the Iranian Navy Rear Admiral Hossein Khanzadi announced on Tuesday that his country's naval forces are due to hold joint wargames with their counterparts from China and Russia on December 27.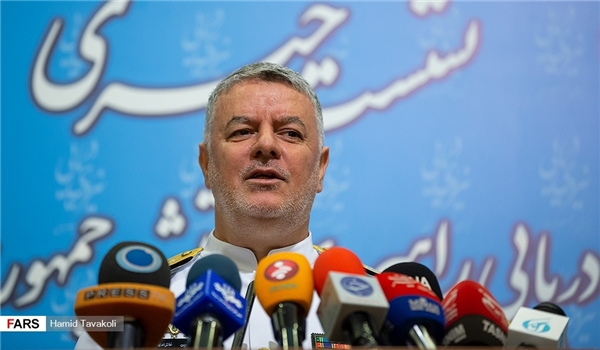 "The joint drills of Iran, China and Russia codenamed Marine Security Belt will be staged on December 27," Rear Admiral Khanzadi said in a meeting with Chinese Deputy Chief of the Joint Staff Department Lieutenant General Shao Yuanming in Tehran on Tuesday.
He also underlined preparedness to start exchange of information between the two countries, including data and information related to the pirates and technical issues, and called for increased joint naval drills to bolster defense preparedness of both states.
Rear Admiral Khanzadi also emphasized the importance of the joint production of destroyers and submarines by Iran and China, saying that the two states are necessitated to run technical cooperation in a bid to enhance the level of their know-how and experience.
The Chinese official, for his part, said interactions between Iran and China play an effective role in maintaining regional and international security and peace, describing the Islamic Republic of Iran's Navy as "an international and strategic force".
In relevant remarks in September, Chief of Staff of the Iranian Armed Forces Major General Mohammad Baqeri said that Tehran and Beijing were determined to boost their military ties in parallel with the expansion of relations in other areas.
Major General Baqeri, who was on an official visit to China, said that Iran and China were willing to develop long-term defense and military cooperation in parallel with the political and economic ties.
He told reporters that relations between Iran and China has been promoted to a strategic level since 2016 and the comprehensive plan of development has been exchanged between the two states.
General Baqeri said that China is an important country in Asia and in the world as well, adding that cooperation with China in various fields is of prime importance to Iran.