Iran
Commander: Iran Self-Sufficient in Drone Production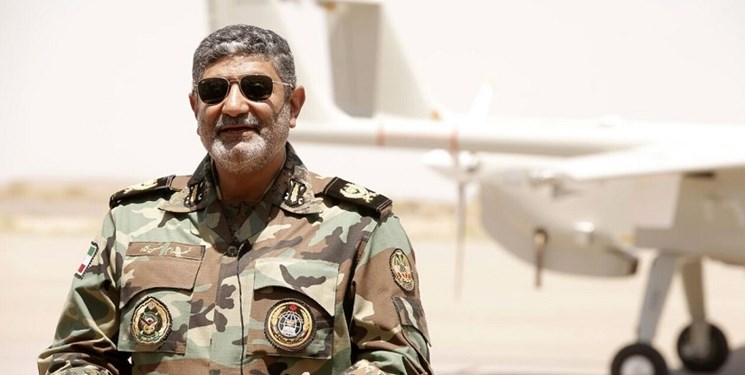 A senior Iranian commander announced that Iran has become self-sufficient in the production of unmanned aerial vehicles (UAVs).
Commander of the Valiasr Drone Group Brigadier General Shahram Hassannejad made the remarks on the sidelines of the military drill entitled 'Fatehan (Conquerors) of Kheibar' in Northwestern Iran.
He lauded Iran's significant progress in developing surveillance and combat drones, and said, "By using surveillance drones, the first phase of the Fatehan Kheibar drills was finished."
General Hassannejad pointed out that Iran's defense industries can design drones today, and all drones used inside are made by Iranian defense experts and engineers.
Iranian Army Ground Force started massive military wargames in North-West Iran near the border with Azerbaijan on Friday.
The military drill entitled 'Fatehan (Conquerors) of Kheibar' is underway by Iran's Army Ground Forces in Northwestern Iran.
The Iranian Army Ground Forces' armored and artillery units, as well as drones with the support of Army Air Force helicopters are taking part in the military drills.
In a relevant development on Thursday, Commander of the Iranian Army Ground Force Brigadier General Kiomars Heidari announced that military exercises of the Armed Forces of the country are held in line with a detailed planning and based on scheduled program aimed at testing weapons, military equipment and assessing the combat readiness of the Armed Forces in the bordering areas of the country.
The military exercises will be held by using certain equipment and combat capabilities of Army Ground Forces units with the aim of improving the combat readiness in this region, he said.
Deputy Commander of the Iranian Army's Ground Force Brigadier General Amir Nozar Nemati had underlined earlier this year that his forces are in the best possible conditions and ready for defense against any possible aggression with the most state-of-the-art home-made equipment.
"At present, all tanks, missiles, drones and other Ground Force's equipment are ready for use, and we produce all the necessary tools for ground combat inside the country," General Nemati said, addressing a ceremony in the Northwestern city of Tabriz in May.
"The enemy wanted to paralyze us, but now we are in the best possible conditions and we are proud to say that we have a super-heavy fleet that no one has had in history," he added.