Iran
Commander: Iranian Army Fighting Coronavirus with 80,000 Forces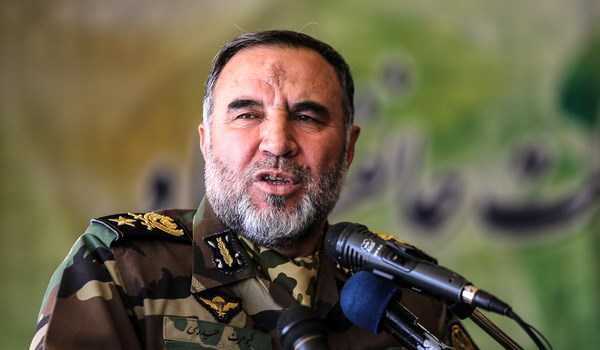 Commander of the Iranian Ground Force Brigadier General Kiomars Heidari announced that he has missioned more than 80,000 of his forces to help the government in the fight against the coronavirus epidemic.
"The Army Ground Force entered the scene of confrontation against the epidemic of the ominous coronavirus with over 80,000 forces and acted offensively in the field of controlling the virus," General Heidari said, addressing the Army commanders and personnel in the Northeastern city of Shahroud on Tuesday.
He also added that the Army was entrusted with screening people for coronavirus infection in four provinces across Iran which included 214 cities and towns.
General Heidari said that the Army forces has set up camps and checkpoints to screen people and headquarters to fight against the coronavirus and disinfected the streets and public places.
In relevant remarks last Wednesday, Deputy Commander of Iran's Army for Coordination Rear Admiral Habibollah Sayyari said that 11,000 medical staff of the Army were helping the health ministry in the battle against COVID-19 virus.
"After Supreme Leader of the Islamic Revolution's order, the Army mobilized all its 38 hospitals, 800 clinics and 11,000 medical personnel and they helped efforts to control the coronavirus," Rear Admiral Sayyari said.
He added that the Army also prepared 12,000 hospital beds to take care of those patients who are recovering from coronavirus.
Rear Admiral Sayyari said that the Army has also conducted biological defense exercises in 24 provinces and disinfected the public places in 100 towns and cities.
Late in March, the Iranian Army launched a medical center with 2,000 beds at Tehran International Permanent Fairground special to the coronavirus patients who are recovering from the deadly disease.
The medical complex, prepared within 48 hours, was inaugurated in a ceremony in the presence of Army Commander General Mousavi, General Heidari, Rear Admiral Sayyari, Deputy Health Minister Iraj Harirchi and the Armed Forces' Deputy Commander for Health and Treatment Brigadier General Hassan Araqizadeh.
The medical center has 2,000 beds, and according to the Army, the number can be boosted to 3,000.
Addressing the ceremony, General Heidari said that the Army has launched 27 hospitals and 4,750 hospital beds across the country so far, stressing readiness to prepare 8,000 others.
Also, Rear Admiral Sayyari said that the Army is well-prepared to thwart any threat thanks to combat capability.