Iran
Middle East
Commander: Iranian Army's Airborne Unit Unique in Middle-East
Commander of the Iranian Army's Ground Force Brigadier General Kioumars Heidari underlined that the Army's Airborne Unit has no rival in the Middle-East region.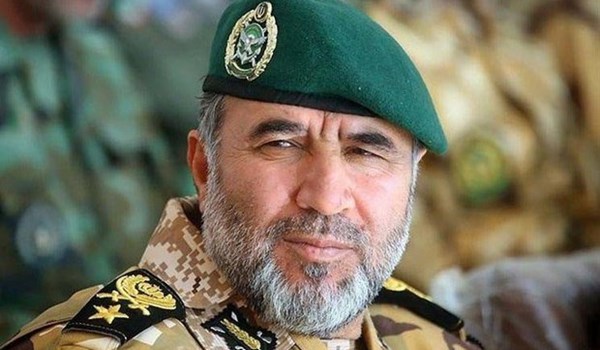 General Heidari made the remarks in a meeting with the Iraqi Army Aviation Unit commanders in Tehran on Thursday.
"The Iranian Army's Airborne Unit has attained self-sufficiency in all areas and has high capabilities and potentials to establish cooperation with Iraqi Army Aviation in technical and training fields, organizing training courses for Iraqi pilots and manufacturing specific helicopter guns and weapons," he said.
"The Islamic Republic of Iran Army's Airborne Unit is the first power in the region and no airborne unit in the Middle-East is rival to it," General Heidari said.
"Iran is also ready to cooperate with Iraq in the fight against global arrogance for the restoration of security and stability in the region," he underscored.
The Iraqi side said that mutual aviation cooperation between Iran and Iraq is of paramount importance, adding that aviation cooperation between the two countries can help boost security and stability in the Middle East region.
Earlier today, Iranian Defense Minister Brigadier General Amir Hatami also held a meeting with commanders of the Iraqi Army's Aviation unit in Tehran.
During the meeting, he underlined the necessity for closer ties between Tehran and Baghdad, saying that Iran's support for Iraq against the ISIL terrorist group prevented the former's disintegration.
The threats posed to both Iran and Iraq necessitate closer Tehran-Baghdad interactions in order to safeguard the interests of the two nations and bring them economic prosperity and provide regional security and stability, General Hatami said.
"The blood of the faithful, committed and patriotic Iranian and Iraqi youths guarantees the stability and security of both countries," he said.
Iraq could have been disintegrated by "ill-wishers and enemies of the peace" had it not been for Iran's support, General Hatami said.
He further emphasized that both Tehran and Baghdad are resolved to develop their bonds.