Iran
Commander: Iranian Army's Armored Units Fully Ready to Fight Enemies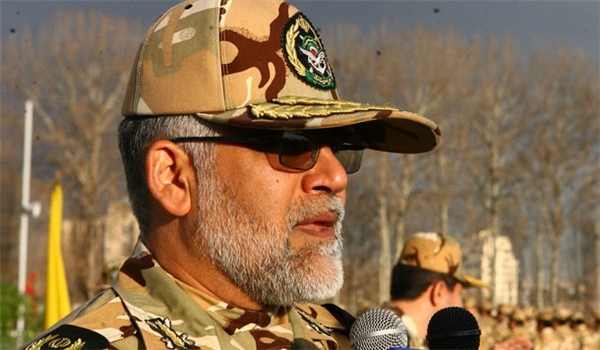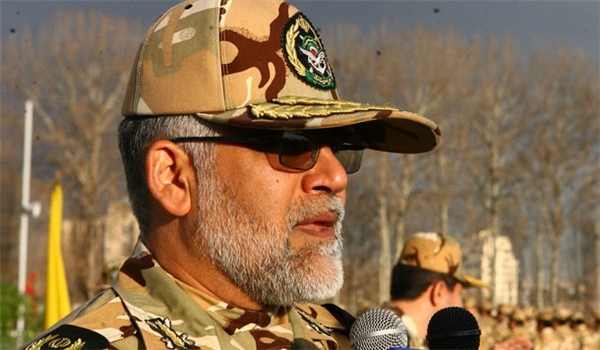 Iranian Ground Force Commander Lieutenant General Ahmad Reza Pourdastan underlined preparedness of the armored units of his force to repel any possible enemy aggression against the country.
"The Ground Force's armored units enjoy a very good level of preparedness and they are waiting for the orders of their commander-in-chief (Supreme Leader of the Islamic Revolution Ayatollah Seyed Ali Khamenei)," Pourdastan said in a meeting with Ayatollah Khamenei's representative in the Southeastern province of Sistan and Balouchestan Abbas Ali Soleimani in Zahedan city on Tuesday.
Also during the meeting, Soleimani appreciated the Iranian Armed Forces' might and power, and said, "The Islamic Republic of Iran's Army is fully ready to stand against enemies' plots with maximum might and power."
Pourdastan had in similar remarks earlier underlined the Iranian Armed Forces' full preparedness and vigilance to confront and kill any enemy which threatens the country's security and territorial integrity instantly.
"Today, the fingers of the Armed Forces are on the trigger and the Bajij (volunteer) forces, the Islamic Revolution Guards Corps (IRGC), the Army and the Law Enforcement forces are now enjoying the highest level of might and readiness," Pourdastan said, addressing people in the Northern province of Mazandaran in August.
Stressing that the Armed Forces monitor all threats and are prepared to give a crushing response to any possible aggression, he said, "The Armed Forces, which enjoy a huge capacity and are equipped with all state-of-the-art weapons of the world, are ready to defend the country and they do not allow the slightest harm to the country."
In relevant remarks in November, Ayatollah Khamenei warned Iran's enemies to avoid even thinking of any aggressive move against the country, stressing that the Iranian Armed Forces are ready to give such a crushing response to any threat that aggressors will never forget.
Addressing 50,000 Basij (volunteer force) commanders in Tehran, Ayatollah Khamenei pointed to the preparedness of Iran's military forces, and said, "The response of the Iranian nation to any foreign aggression will be regrettable for the enemy."
The Supreme Leader underlined that the increasing threats by the enemy show that the US-led western sanctions have not been effective and they have understood it themselves.
Addressing the arrogant powers, Ayatollah Khamenei said, "Instead of threatening other countries, go and deal with your wretched economic conditions and think of you debts."
The Supreme Leader underlined that the Zionist regime has been imposed on the region, "Anything that is gained with force will not last long and this regime will not last either."