Iran
Middle East
Commander: Iran's Ground Force Undergoes Several Structural Changes
Deputy Commander of the Iranian Army Ground Force for Coordination General Ali Jahanshahi declared start of several structural plans, including a reinvigoration of rapid-reaction forces.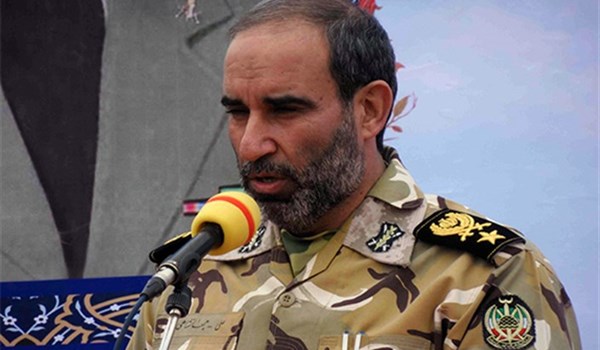 "20 plans to make changes in the Ground Force have been implemented based on which the infantry and commando brigades have been changed into rapid-reaction and assault forces and a number of tactical bases have also been turned into operational bases," General Jahanshahi said on Tuesday.
Elsewhere, he referred to the US sanctions against Iran, and said, "The enemy has made use of economic sanctions as a weapon, but to no avail."
"Still the Army should always enjoy the necessary preparedness and deterrence in the military dimension."
Senior Iranian military commanders have always underlined the need for the Armed Forces to confront any threats, but meantime, said that Iran is not after war.
"The Islamic Republic of Iran's Armed Forces will undoubtedly give a strong response to any aggressive move by enemies against the Islamic Iran's islands and sea, ground and air borders and will make them regret their deeds," Commander of Khatam ol-Anbia Headquarters Major General Gholam Ali Rashid said on Monday.
He also cautioned that in case of any war between the US and Iran, no one could control its duration, magnitude and vastness, and said, "The US should have taken a lesson from its mistakes of Iraq and Afghanistan invasions which imposed $7,000bln of expenses (on the US) and 70,000 casualties on these countries, and avoid making an irreversible mistake in its calculations when making decisions."
He also underscored the Iranian military commanders' prudence and intelligence superiority to prevent a war, meantime, warning that the country's Armed Forces were more than ever ready to inflict heavy expenses on the aggressors and make rapid and timely decisions.