Iran
Middle East
Technology
Commander: Nour Military Satellite to Increase IRGC Defense Force's Strategic Intelligence
Commander of the Islamic Revolution Guards Corps Major General Hossein Salami said that the military satellite, Nour 1 (Light 1), which was sent into the space on Wednesday will further boost the IRGC defense force's strategic power of intelligence and information.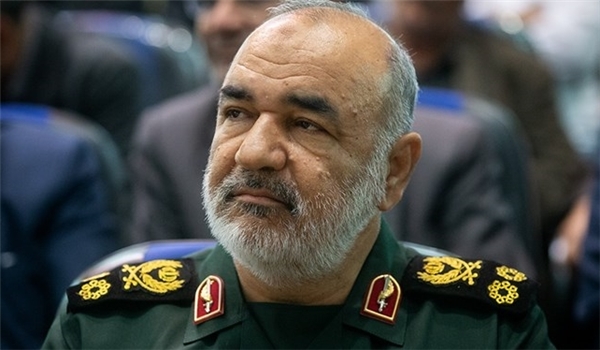 "Today, we can see the world from space and this means expansion of the strategic intelligence and information of IRGC's powerful defense force," General Salami said after the IRGC launched Iran's first military satellite into space.
He added that launching the multi-task satellite can both create strategic added value in intelligence battles and power in intelligence wars.
General Salami said that all parts of the satellite, including the carrier and satellite, have been produced by the Iranian scientists despite the US sanctions, noting that the message of this important achievement is that sanctions are not an obstacle on the way of Iran's progress and will further motivate the country to turn into a big power in the region and even the world in the new technologies.
The IRGC successfully launched and placed Iran's first military satellite into the orbit.
The IRGC fired the satellite aboard Qased (Carrier) satellite carrier during an operation that was staged in Dasht-e Kavir, Iran's sprawling Central desert, on Wednesday.
The satellite was placed into the orbit 425km above Earth's surface.
The announcement was made on the day when the elite military force is marking the anniversary of its establishment on April 22, 1979 upon an order by the late founder of the Islamic Republic, Imam Khomeini.
Marking the occasion, Supreme Leader of the Islamic Revolution Ayatollah Seyed Ali Khamenei expressed his gratitude towards the IRGC for its performance.