Commander: Present wars economic, cultural,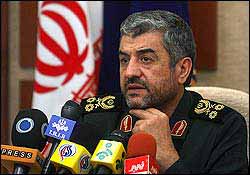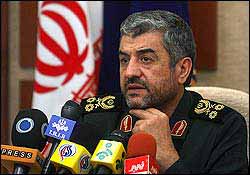 IRGC Commander said today that military threat is potential and not a priority, and there are the cultural, then economic-political wars where the IRGC is responsible for defending the Revolution as well.
IRGC Commander Major General Mohammad Ali Jafari who was addressing graduates of IRGC Command and Staff College (DAFOS), pointed out to the Islamic Awakening taking place in many countries, and asserted that the essence of this awakening can be traced in the Holy Defense of the Islamic Iran against hegemonic domination during the 8-year Imposed War of Iraq against Iran.
"IRGC Command and Staff College DAFOS is an integral part of the IRGC which works valiantly and steadfastly to boost IRGC's power in all aspects," said IRGC Commander, mentioning the important role of the college in the education of competent IRGC commanders.
"IRGC's original mission and philosophy behind its existence finds expression in defending of the Islamic Revolution and its achievements, the recognition of which will provide help for precise understanding of the situation and its demands," said IRGC Commander, commenting on the reasons behind IRGC's existence.
Jafari also pointed out to the changes in the nature of threats in 4 th decade of the Islamic Revolution, adding that unlike the first decade when the military and security threats were imminent and of top priority, today's military threat is only potential, without priority; and cultural and economic- political wars come to surface , where IRGC is responsible for defending the Revolution.
He emphasized upon the importance of identifying sources of threat in any point in time, and keeping defense capabilities proportionate to face those threats.
At the end of his speeches, Major General Jafari appreciated top graduates of the DAFOS courses at Imam Hussein University with honors.