Iran
Commander Says IRGC Has Drones with 3,000km Flying Range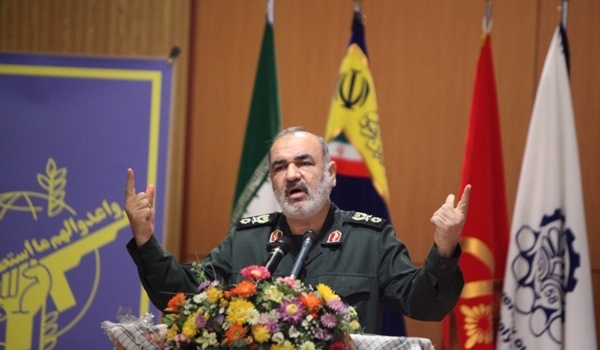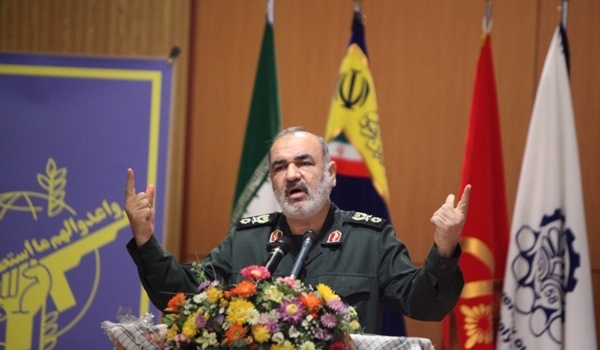 Lieutenant Commander of the Islamic Revolution Guards Corps Brigadier General Hossein Salami announced that the IRGC has developed a drone technology which has empowered its pilotless aircraft with the capability to fly 3,000km for reconnaissance and combat missions.
"The IRGC has a drone that has a flying range of 3,000 km round-trip and is capable of conducting reconnaissance and combat missions," Salami said in an interview with the state-run TV on Tuesday night.
"We also have a unique ballistic missile that no one else, but perhaps Russia and the US, has; and intercepting this missile is almost impossible," he added.
Elsewhere, Salami underlined Iran's high capabilities to confront enemies' threats, and said, "Any US airbase whose airplanes can reach the Iranian airspace as well as their aircraft carriers can be targeted by Iran's unique high precision striking ballistic missiles and drones."
Iran has made huge progress in building different types of weapons and military equipment, including drones.
The Islamic Republic has so far unveiled various domestically produced drones, including Ababil, Fotros, Hazem, Karrar (long range attack drone), Mohajer, Sarir, Shahed 129, Yasir and Zohal.
A senior Iranian commander announced in October that the IRGC Ground Force is finalizing manufacture of a new homemade drone armed with the RPG (rocket-propelled grenade).
Commander of the IRGC Ground Forces Brigadier General Mohammad Pakpour said at the time that the combat drone would carry the RPG with no Backblast.
Pakpour also noted that the drone has passed the tests and will be completed in the near future.
Iran unveiled its first homemade fighter drone that carries air-to-air missiles last September.
The Iranian media outlets reported that the drone is capable of destroying all types of aircrafts including fighters, small Unmanned Aerial Vehicles (UAVs) and helicopters.
The country unveiled its first domestically manufactured long-range UAV named Karrar in 2010. The first Iranian medium-altitude long-endurance UAV, the Shahed-129 was unveiled in September 2012, which is capable of carrying out combat and reconnaissance eight missions for 24 hours and has a range of 1,700 km.
The country also unveiled its largest yet homemade UAV, titled 'Fotros' in 2013. Fotros has a range of some 2,000 kilometers and is capable of launching air-to-surface missile strikes. The drone can fly at an altitude of 25,000 feet, with a flight time of 16 to 30 hours.
Iran started mass production of the "Yasir" UAV in September 2013. Yasir can fly at an altitude of 15,000 ft., be in flight for eight hours, cover the distance of 200 km, and does not need a runway. The UAV is equipped with light powerful modern cameras, and can precisely control the target.
Commander of the IRGC Aerospace Force Brigadier General Amir Ali Hajizadeh underlined in November that the country's capabilities in building different types of UAVs, and said the range of Iran-made drones has increased to 3,000km.
Hajizadeh referred to the country's first drone, Mohajer, and said, "Mohajer could fly 3,000km since the beginning."
"But today, the operational range of all the different types of (home-made) drones used for different missions has also increased to 3,000km which is means a major step in the self-sufficiency of our defense industries."
Also in November 2014, Hajizadeh announced that four Iran-made RQ-170 drones – manufactured through the reverse engineering of a similar American pilotless plane that was downed by Iran in 2011, would start operational flights by the end of the current Iranian year (ends March 20, 2015).
"We have plans to bring into operation, at least, four indigenized RQ-170 drones for missions by the end of this (Iranian) year (March 20)," Brigadier General Hajizadeh said after the state-run TV displayed the footages of the first flight of an Iran-made RQ-170 drone.
"We will not extradite the US RQ-170 drone since it is a (war) trophy, but if the US sanctions against Iran are lifted, maybe we will give the US an Iranian model of the drone," Hajizadeh added.
He said that the Iranian version of the RQ-170 has been built through a combination of the US designs and ideas and those of the Iranian experts.