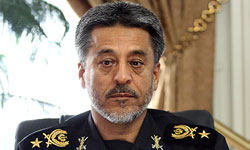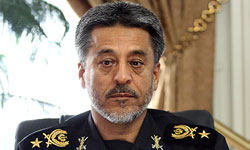 Commander of the Iranian Army's Navy Rear Admiral Habibollah Sayyari lauded Iran's high military and missile capability, saying that the country enjoys an impenetrable line of defense along its coasts.
The range of the Navy's missiles and its coastal defense power are increasing on a daily basis," Sayyari told FNA on Wednesday.
He also said that Iran' newly made anti-ship coastal missiles recently supplied to the Iranian Navy have been deployed and the Navy is now using them in its defensive layers.
In January, Iran's Defense Ministry supplied a number of newly developed anti-ship coastal cruise missile systems to the country's Navy as part of the country's broader plan for enhancing its defense capabilities.
Iranian Defense Minister Brigadier General Ahmad Vahidi said at the time that deployment of these systems along the country's coastlines would provide Iran with the capability to identify, detect and destroy multiple targets thorough a single command-and-control center.
The remarks by Vahidi came weeks after Supreme Leader of the Islamic Revolution Ayatollah Seyed Ali Khamenei described the Iranian Army's Navy as "a strategic force".
"Given the current issues of the world and today's geopolitical conditions of the world, we should strengthen ourselves in sea and in coast as far as we can," Ayatollah Khamenei stressed on November 28, addressing senior Navy commanders here in Tehran in a ceremony to commemorate the National Navy Day.
The leader also stressed that increasing manpower, recruiting talented personnel and taking innovations and initiatives into action are highly necessary for the future of the country's naval forces.
Ayatollah Khamenei further praised the close cooperation between naval forces of the Islamic Republic Army and the Islamic Revolution Guards Corps (IRGC).
The Iranian Army Navy and the Islamic Revolution Guards Corps Navy have tight cooperation in controlling the country's waterways and protecting Iran's interests inside territorial waters and in the high seas.
Iran's naval power has even been acknowledged by foes. In a Sep. 11, 2008 report, the Washington Institute for the Near East Policy said that in the two decades since the Iraqi imposed war on Iran, the Islamic Republic has excelled in naval capabilities and is able to wage unique asymmetric warfare against larger naval forces.
According to the report, Iran's Navy has been transformed into a highly motivated, well-equipped, and well-financed force and is effectively in control of the world's oil lifeline, the Strait of Hormuz.