Iran
Commander Stresses Iran's Updated Capabilities in Electronic Warfare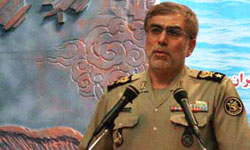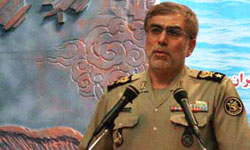 The Iranian Armed Forces are promoting their capabilities in electronic warfare to cope with their modern communication needs, a senior Iranian Army general said on Tuesday.
"Very effective steps have been taken in the field of communication and this area has undergone great changes and the Islamic Iran has updated its sources of defense proportionate to its needs in grounds of electromagnetic waves," Army's deputy top liaison General Mohammad Hossein Dadras told reporters today.
He added that Iran enjoys a high standing in the field of electromagnetic waves currently used in modern warfare.
"We possess the most recently developed equipments and devices in the field of communications," Dadras underscored.
In relevant statements in October, a senior Iranian military commander said Iran's defense forces have promoted their electronic and IT capabilities because future threats and war on Iran will most likely be electronic and cyber war.
"The future wars will not be similar to the war during the 8 years of the Sacred Defense (i.e. Iraqi imposed war on Iran in 1980s) and we may enter face an intense and vast atmosphere of electronic war," Commander of Khatam ol-Anbia Air Defense Base Brigadier General Farzad Esmayeeli told FNA at the time.
The commander said the Iranian defense forces are promoting their capabilities to cope with the existing threat, and stated, "Therefore, we were necessitated to have our detection and identification systems equipped with different frequency bands and now they have this capability."