Iran
Commander: Unknown Drone Downed by Iran's Mersad Missile System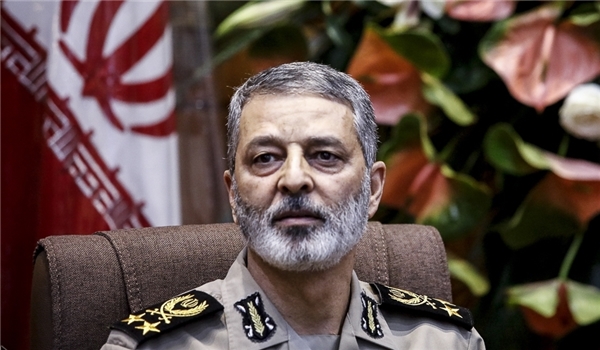 Commander of the Iranian Army Major General Seyed Abdolrahim Mousavi announced that the unidentified drone which flew over the Iranian Southern port city of Mahshar on Friday was shot down by indigenized Mersad missile shield of the Army Air Defense Force, noting that the origin and goal of the aircraft is yet unknown.
"On Friday morning, a drone which was trying to hide itself from the radars by flying at low altitude, was traced and targeted. We cannot yet certainly identify the origin and main target of this drone as long as we have not retrieved parts of the drone to make our graphs and date complete, but the drone was certainly flying at low altitude and was targeted by the home-made Mersad system," General Mousavi told reporters on Saturday.
He also explained that the downed drone was intercepted and destroyed despite its low radar cross-section (RCS), noting that the incident displayed one of the capabilities of Mersad missile system.
"Any other aggressor in any size will naturally be hit and destroyed as well," General Mousavi said.
Iran announced in May 2014 the successful test-firing of the country's new air defense system, Mersad, with a capability of destroying different modern fighter jets and drones.
"Mersad is a mid-altitude missile defense system which enjoys more and better capabilities in intercepting targets, electronic warfare and also its radar covers a wider and farther areas compared with its foreign rivals and it has been built completely by Iranian experts," former Commander of Khatam ol-Anbia Air Defense Base Brigadier General Farzad Esmayeeli said at the time.
The Air Defense Force of the Iranian Army shot down the unidentified drone over Bandar-e Mahshahr in the Persian Gulf, where the country's major petrochemical plants are located, early on Friday morning.
In a relevant development on June 20, the Islamic Revolution Guards Corps (IRGC) Aerospace Force shot down an American spy drone over the territorial waters of Iran near the Strait of Hormuz at dawn on June 20.
After the incident, US President Donald Trump said the US air force was "cocked and loaded" to attack three Iranian targets, but he called off the strike with 10 minutes to spare after being told that the airstrike might kill as many as 150 people.
Trump said in a series of tweets that he decided that the death toll was not a proportionate response to the Iranian shooting down of a US spy drone off the Iranian coast.
After Trump's remarks, Commander of the IRGC Aerospace Force Brigadier General Amir Ali Hajizadeh said that his forces could have shot down a US P8 aircraft with 35 on board which was violating Iran's airspace, but decided to shoot down the drone to only send a message to Washington.
"We intended to send a message to American terrorists in the region," Brigadier General Hajizadeh said, adding that his forces had also traced a military P8 aircraft violating the airspace of Iran.
"Along with the American drone was an American P8 aircraft with 35 on board, and it was also violating our airspace and we could have downed it too," he said, adding, "But we did not do (shoot down) it, because our aim was to warn the terrorist forces of the US."
General Hajizadeh also stressed that Iran was not after war but was fully ready to defend itself, adding that the fate of the downed US spy drone was waiting for any intruding flying object.
"Our response to anything trespassing Iranian territory is like this, and if such acts of aggression are repeated, our response will also be the same," General Hajizadeh said.
"We don't embrace war but we are ready to fully defend the country," he said.
"We possess a collection of US drones which is a proof that US has violated Iran's airspace and shows that they don't want to respect the international law," General Hajizadeh said.
"If such an aggression is repeated, we will add other US (military) products to complete this collection," he noted.
"The US measure was in violation of international law and we acted according to our legitimate responsibility," General Hajizadeh said, adding, "It is possible that a US general or some operators were behind this American aggression, we don't know that. But that measure (intruding into Iranian airspace) is a violation of international aviation rules by a spy drone which then received our natural response."