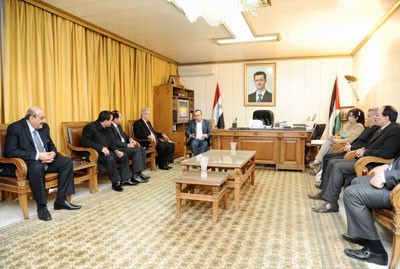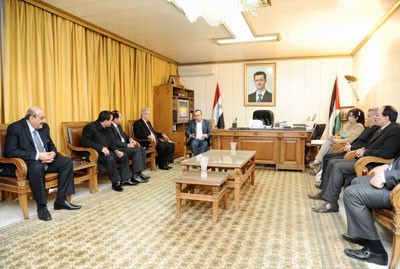 The People's Assembly committee of Public Freedoms and Human Rights discussed with Governor of Damascus Countryside province, Hussein Makhlouf, means of developing cooperation between the committee and the governorate in following up the issue of the kidnapped and missing people.
Head of the committee, Badi' Sakkour, called for holding periodical meetings between the committee and the governorate to follow up various issues, particularly that the committee frequently receives requests about the situation of the citizens who had gone missing or abducted in Damascus countryside.
Governor Makhlouf reviewed the efforts exerted by the province concerning the relief operations and the residence of the families who came to the province and they are estimated at 159,000 from a variety of areas in the province and other provinces, adding that the governorate is seeking to bridge the gap in the volume of international organization's aid which meets the needs of the province by 60 % only.
Makhlouf noted that a committee was formed to provide makeshift centers for the families who were evacuated from Adra, pointing out that evacuation operations are going on in coordination between the province and the authorities concerned to ensure the safety of residents who are estimated at more than 100,000 people.
He considered the armed terrorist groups' attack on Adra as an attempt to distract the victories of the Syrian Arab Army, adding that the terrorist groups want to establish their Wahabist extremist mentality inside the Syrian society to implement the instructions they receive from their backers.